When Can You Refinance A Car Loan
Like any personal loan, car loans can be a big commitment. But just because you applied for a car loan somewhere else doesn't mean you can't shop around for a better deal, even on your current loan. In this article, we'll break down everything you need to know about refinancing an auto loan, including how to determine whether or not it's the best option.
What Is Auto Loan Refinancing?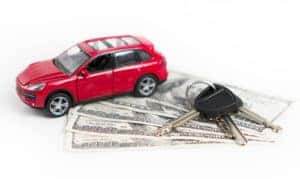 "Car Insurance" licensed under CC BY 2.0 via Flickr by free pictures of money
Refinancing a new vehicle means that you secure a new loan to settle your current auto loan balance. If you're struggling with unaffordable monthly payments or high-interest rates on your existing auto loan, refinancing could be the key to securing better, more favorable loan terms. Refinancing your car loan could help reduce your monthly payments by extending your repayment term. Or it could help you save a considerable amount of money through lower interest rates. 
When to Refinance a Car Loan
While you should be able to refinance your auto loan at any time, make sure you end up with a better deal where refinancing doesn't leave you paying more for your automobile. Here are a few guidelines to help you determine the ideal time to refinance:
Wait two to three months for your vehicle title to transfer from the previous owner or automaker to your current lender.

It generally takes a long time for the title transfer to happen. And most creditors won't consider your refinance application if the transfer is incorrect or incomplete. So allow    

Consider refinancing after six months.

Waiting for at least six months into your auto loan term allows additional time for your credit score to recover from any temporary dips.

If you're a first-time car loan borrower, wait for at least a year before refinancing your auto loan.

Before refinancing a car loan, a first-time borrower needs to build a good auto loan repayment history.
What You Need to Refinance Your Car Loan
Once you are ready to refinance your car loan, you'll need to start gathering documents that creditors will need. These include:
Documents to verify your income, employment, residence, and your Social Security number

Vehicle information includes mileage, VIN, proof of insurance, registration, and title.

Loan information like your current balance and the lender's name.

Your financial history, including credit reports and bank statements.
Once you've assembled all the necessary documentation, you're ready to start the auto loan shopping process.
Can Anybody Refinance Their Auto Loan?
Before applying to refinance your auto loan, you must understand the prerequisites, which generally include the following: 
Age of your car.

Vehicles past ten years of age might not qualify for refinancing. However, the maximum age requirement will differ from lender to lender.

Type of car.

RVs and some commercial vehicles might not qualify for auto loan refinancing.

Mileage.

Just like a car's age, a vehicle with mileage over 100,000 miles might not be eligible for auto loan refinancing.

Value of the automobile.

If your car is worth less than what you still owe on it, you'll have a hard time finding a creditor to refinance it.

Loan amount.

Creditors generally have a minimum loan condition that they work with when refinancing a car loan, so you'll have to inquire about that during the application process.
Benefits of Refinancing a Car Loan
Here are some scenarios it makes sense to refinance your car loan:
Lower interest rate.

If your credit score has increased since you first bought your car, you may be able to get a lower interest rate than what you've right now.

Lower monthly payment.

If you can't afford your current car payments or need to increase your monthly cash flow, refinancing your auto loan can help you get lower monthly payments.

Extending loan tenure

. Although the interest paid could be more, refinancing may permit you to prolong your auto loan's financing term to ease your monthly burden.

Changing the terms of your car loan.

If you come across a more desirable auto loan with better terms related to application charges, insurance, hypothecation, late fees, etc., you may decide to refinance to enjoy these benefits.
When You Shouldn't Refinance Your Auto Loan
Before you choose to refinance your car loan, you'll want to consider not just the potential advantages but also the potential disadvantages. Here are some telltale signs that auto loan refinancing might not be in your best interest: 
You're in the last stages of your auto loan.

Most of the interest on an auto loan is paid in the first half of the loan; therefore, it's better to refinance it towards the beginning of the loan term.

Your current loan has a prepayment penalty.

If your existing loan has an early termination penalty, check if the penalty will cancel the savings of refinancing to a lower rate.

You're behind on your payments.

Any late payments on your current loan or other credit issues could eliminate the possibility of eligibility for an auto loan with better terms.

You may not be eligible for refinancing.

If you apply to refinance your auto loan, there's no guarantee you'll get approved. For instance, if you owe more on your existing loan than your vehicle's value, you may not qualify.
Can You Refinance a Car Loan With Bad Credit?
Although getting approval might be more challenging, refinancing an auto loan with less than perfect credit isn't impossible. At times, it's as easy as finding a creditworthy co-signer or building a higher credit score over time.
Now that you know how the refinancing process works, the only thing left to do is visit our finance department at North Coast Auto Mall in Akron, Ohio. We can help you explore your options and confidently return to cruising through Akron. Feel free to contact us if you have any financing questions. 
To get even more out of your used car buying experience, you can learn all about our certified pre-owned program at North Coast Auto Mall. We look forward to working with you!