What's The Average Interest Rate On A Car Loan
The interest rate you receive on a car loan depends primarily, if not exclusively, on your credit score. What is meant by the average interest rate on a car loan? Most individuals look for the interest rate of someone with average credit, which sits in what's known as Prime, or those with credit scores between 661 and 780. Currently, the average rate for those in the Prime category is 3.48% for a new car and 5.49% for a used vehicle.
Other factors that go into your interest rate include your location and the type of car you purchase. You can procure an auto loan right at the dealership or by going to your bank or credit union, other banks or credit unions, or independent lenders that specialize in auto loans and getting pre-approved prior to shopping for your car. Buying a new or used vehicle and your credit score are the two most important factors when determining your interest rate for purchasing a vehicle.
Average Car Loan Interest Rates By Credit Score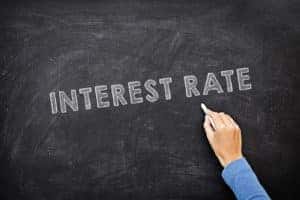 "interest rate" licensed under CC BY 2.0 via Flickr by mikecohen1872
From Deep Subprime to Super Prime, each category of credit scores will have its average interest rate for both new and used vehicles. Currently, you can expect to get the following rates at each of the credit score categories:
Deep Subprime (300 to 500).

14.59% for new and 20.58% for used.

Subprime (501 to 600).

11.03% for new and 17.11% for used.

Non-Prime (601 to 660).

6.61% for new and 10.49% for used.

Prime (661 to 780).

3.48% for new and 5.49% for used.

Super Prime (781 to 850).

2.34% for new and 3.66% used.
Your credit score is simply your grade for the quality of your credit history. It's a numerical representation between 300 and 850. Your credit score includes repayment history, current and past borrowing, repayment history, applications, and credit type mix. Credit scores provide an easy way for companies to quickly ascertain your creditworthiness and decide if they wish to provide you with financing, and if so, at what rates. And just like any other loan type, the lower your credit score, the more expensive borrowing is, while those with the best credit scores get the best rates.
As shown above, the difference between the lowest interest rates and the highest is about 12% for new car loans and almost a whopping 17% for used cars. As you would expect, the interest rate has an enormous impact on your monthly payment. For example, here's the difference in monthly payments for the various credit score categories on a 48-month loan for $30,000:
Deep Subprime (300 to 500).

14.59% – $829/month.

Subprime (501 to 600).

11.03% – $776/month.

Non-Prime (601 to 660).

6.61% – $713/month.

Prime (661 to 780).

3.48% – $670/month.

Super Prime (781 to 850).

2.34% – $655/month.
With only the interest rate being different, those with the highest credit score would pay $174 less per month for the exact vehicle.
Rates for Used Cars Verses New Cars
While the cost of purchasing new is higher than purchasing used, the rates for buying new are lower than buying used, regardless of your credit score. You can expect to pay around four percentage points more for a used car loan than a new car loan.
For the most part, the gap between new and used rates narrows as the credit scores go up, but even at the highest credit scores, the rate for a used car is still over 1% more. This increase is mainly because a used car is a more significant risk to lenders as they are valued lower and are more apt to have mechanical issues or be totaled if an accident occurs. Therefore, the increased risk gets passed down to the borrower.
Auto Loan Rates by Term
Generally speaking, the longer the loan term, the higher the interest rate, so a 36-month loan will offer a lower interest rate than a 60-month loan. 60-month loans and longer have a bigger jump as the risk of issues and accidents during the loan term increases. Also, there's some statistical correlation between non-payment and loan length. The longer the loan term, the more likely the borrower will default on the loan. Here are the average rates across different loan terms:
36-month new car loan averages 3.67%.

48-month new car loan averages 3.74%.

60-month new car loan averages 3.81%.

72-month new car loan averages 3.96%.
As you can see, the biggest jump happens after 60 months, increasing 0.15% versus the 0.07% jump at each of the other levels. For this reason, it is advisable to keep your loan term at 60 months or lower. Keeping your loan term shorter also helps prevent going underwater on your loan in which the loan balance exceeds the current market value of the vehicle. You can use a payment calculator to estimate your payments for each loan length to determine the best payment option for you.
Final Thoughts
Average rates for car loans consider various factors, such as new versus used, credit score, and loan term. You can use that information to get a general idea of what will be best for you. However, remember that the lender you get financing from also is an important consideration. These are averages, not exact rates for every lender. Each lender sets its own rates, so make sure you shop around and find the lender that will offer you the best rate.
Get pre-approved at several different institutions and compare their interest rates and fees to ensure you get the best deal. Often, if you seek pre-approval from multiple lenders within a 10-day window, it's only considered as one hard look at your credit score by the credit bureaus.
Stop by North Coast Auto Mall in Akron when you're ready to look for your next pre-owned vehicle. We have financing options available for everyone, regardless of your credit history, and will work to get you a monthly payment you can afford. You can reach our team at 330-752-8884 or via our secure online messaging system. You can even start the pre-approval process online before stopping to see us at 1875 Brittian Road.