What Does Preapproved For A Car Loan Mean?
Getting preapproved for a car loan can make your car buying experience faster and easier. It's also a good way to assess your budget and find the best car for your budget and needs. We know that car buying is often a complicated process, but we're here to help make it easier. If you're curious about the loan approval process, read on to learn about what preapproval means, how you can become preapproved, and why preapproval is so important.
What Does Preapproved for a Car Loan Mean?
Preapproval for a loan is not the same as an actual loan. It's a document that says you qualify to borrow a specific amount of money from a particular lender. After reviewing your credit history, income information, and other required documents, potential lenders can issue a conditional approval. This means they tell you how much they can loan you to purchase a car, so long as the information you provided is accurate and your financial situation remains the same between getting your preapproval and taking out your loan.
There are two primary reasons to get preapproved for a car loan. The first is because it helps car dealerships take you seriously. It shows them you're committed to purchasing a vehicle and that you have the financial means needed to complete the transaction. Basically, it confirms for them you're genuinely in the market for a new-to-you vehicle and are ready to purchase.
The second reason is that it lets you know how much you can spend on a vehicle. When you supply all the documentation needed to a lender, they return with a conditional loan amount and the details of your loan. The number they give you can help you realize the budget you have to spend on a vehicle. While you don't have to spend the full loan amount, knowing you're preapproved can offer you peace of mind and make car shopping more efficient.
How Do You Get Preapproved for a Car Loan?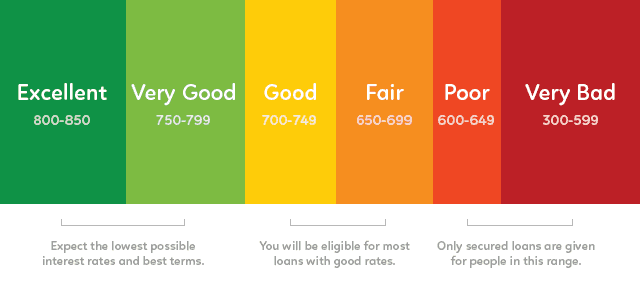 "Fico Credit Score Range" licensed under "CC By 2.0" by CafeCredit.com
The first step to getting preapproved for a car loan is to look at your credit score. Your credit score is a number that informs lenders of your creditworthiness. Many factors make up your credit score, like how much you currently owe, how consistently you repay your loans, and the length of your credit history. Credit scores can range from 350 to 850, with 350 being the worst and 850 being the best. Anything above 670 is often considered a good credit score.
You might have access to your credit score if you have a credit card that displays the information on your account. You can also register for paid services to check your credit. Note that any time you check your score, you might notice a small dip in your score. Some lenders have minimum credit scores for car loans, so be sure to check with your desired lending institution to see what those requirements are.
If you find your credit score is too low to get the rates or the amount you want, you can work to raise your credit score. First, make sure there aren't errors in your report that are negatively affecting your score. Try to check your credit a few months before you apply for preapproval. This way, you have time to make changes and get the rates you want. A poor credit score can lead to higher interest payments, which can raise your monthly costs.
The next step is to find a lender and apply for preapproval. At the North Coast Auto Mall in Akron, we make this process easy and allow you to apply for financing through our website. You could also go with your preferred bank or credit union. If you choose to go with a different lender, call and ask about their preapproval process and required paperwork. It's often a smart idea to get preapproval summaries from multiple lenders so you can compare rates and loan amounts. Look for the smallest interest rates when deciding who to use for an auto loan.
Most lenders ask for proof of your identity, proof of your income, and proof of your residence. Being prepared with a valid photo ID, recent pay stubs, and official proof of your mailing address can save you time during the preapproval process.
What Are the Benefits of Getting Preapproved?
Getting preapproved is beneficial for many reasons. For starters, it makes the car buying experience easier. Getting preapproved gives you the confidence to shop because you know how much you can comfortably spend. Used cars can often be in high demand, meaning it's important to act quickly when you find the deal you want. Getting preapproved lets you start the buying process sooner and helps dealerships take your interest seriously.
If you try to get a loan after finding the car you want, you may not have the time to shop multiple lenders for the best rates, make changes or find errors in your credit report, or get the required documents together in time to make the purchase. Being preapproved is a lot like walking into a dealership with cash. You have the power and the flexibility to take charge of your car buying experience. With a preapproved amount, you can more easily negotiate pricing and make confident offers.
Another benefit is knowing what you can spend and how much your monthly payments will be. This is powerful information that can drastically shape your car-buying experience. With preapproval, you can calculate monthly payment amounts, look for cars within your budget, and offer to purchase a car the same day you find the one you want. So long as you're preapproved, finalizing your loan is often efficient and easy because you've done all the hard work ahead of time.
Apply for Car Loan Preapproval With North Coast Auto Mall of Akron
We hope this answered some of your questions about the preapproval process. We want to do everything we can to make your car buying experience smooth and efficient. If there's something we missed or you have questions about financing one of our vehicles, stop by our Akron dealership or contact us online. We can't wait to hear from you and look forward to helping you throughout the car loan preapproval process.