What Documents to Bring When Buying a Car
When it comes time to purchase a vehicle, you'll want to arrive at the dealership prepared with the necessary paperwork. To ensure a quick and easy car-buying process, our Akron used car dealership is here to let you know what documents to bring along. Come prepared and we can help you streamline your entire car-buying process and drive off in the vehicle of your dreams in no time.
When you're purchasing a vehicle from a dealership, there are several things that you'll need to bring with you. Make sure you have these on hand so you can complete your purchase on the spot.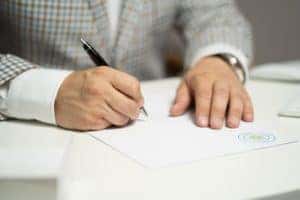 "Man Sign Paper" licensed under Pixabay by Sozavisimost
DRIVER'S LICENSE
Your driver's license is one of the most important documents to have when you're car shopping. You'll need this just to take the car for a test drive, so make sure it's with you and current.
PROOF OF INSURANCE
Most dealerships require proof of insurance for you to purchase a new vehicle. When you're shopping for new vehicles, it's helpful to give your insurance agent a call to discuss the process of transferring your insurance coverage to a new car or adding a second vehicle to your insurance plan if you plan to keep your existing car as well.
During this discussion, you can also ask for a quote on the type of vehicle that you're considering. Insurance rates can vary greatly from one car to another, so it's a good idea to get a quote before you buy your next vehicle to make sure you can afford this new investment.
FINANCIAL DOCUMENTS
If you're getting your financing from the dealership, you'll need to bring the appropriate documents along to get approved for a loan. This typically includes:
Recent pay stubs or other proof of income.
Utility bills or another proof of residence.
A list of references (particularly if you have a poor credit score).
YOUR DOWN PAYMENT
With this information in hand, you can sit down with our financial department and determine your eligibility for a loan. You can also apply online to get preapproved for your new vehicle and simply finalize your loan when you arrive.
If you prefer to get your financing elsewhere, you'll need to bring the appropriate loan documents with you to complete the purchase. Some lenders will provide you with a blank check that you can fill in for the price of the car up to a pre-approved amount.
REBATE OR DISCOUNT ELIGIBILITY DOCUMENTS
In some cases, you may be eligible for a special discount or rebate on your vehicle purchase. Manufacturers, dealerships, and even credit card companies will occasionally offer discounts for new vehicle purchases. Check the fine print for these deals and make sure to bring any necessary documents to prove your eligibility.
Special rebates are often offered to specific types of customers as well. These are most commonly available to students, recent graduates, or those in the military. If you qualify for a rebate like this, you'll need to bring proof that you're eligible, such as your military or student ID.
DOCUMENTS FOR TRADING IN A VEHICLE
If you're trading in your vehicle, you'll need the following documents with you to complete the transaction. If you're using your trade-in as a down payment to purchase a new vehicle at the same time, you'll also need the documents listed above.
VEHICLE TITLE
To trade in your vehicle, you must have the title in hand. This title should be in your name so you can sign it over to the dealership. If the title has a secured party listed on it, you'll need to have a payoff letter or loan release document as well.
VEHICLE REGISTRATION
You usually need to have your vehicle registration to transfer the plate from your trade-in to a new vehicle.
SERVICE RECORDS
Though this is optional, it's a good idea to bring along your vehicle's service records if you've kept it in good condition throughout the years. Being able to prove that you've invested in regular maintenance can help you get a better price for your car when you trade it in.
YOUR CREDIT SCORE AND CAR BUYING
Many sources recommend taking your credit report with you to buy a new car. However, this isn't really necessary as long as you have an idea of what your credit looks like. The dealership will look up your credit score independently to check this information with the credit reporting agency that they work with. As you're getting ready to start the car buying process, you should request a copy of your credit report from all three major reporting agencies to make sure the information is accurate and see where your score currently sits.
The higher your credit score, the better your financing options will be for your next vehicle. On average, a solid credit score for a used car loan is 657. However, it is possible to get a loan with a lower score in some cases. North Coast Auto Mall is happy to work with you no matter your credit situation. To discuss your personalized finance options, please contact our finance team.
If you need to improve your credit score before you can purchase a new car, you can boost this number by:
Paying down your cards so you're utilizing no more than 30% of your available credit.
Making sure all your credit card payments are made on time.
Limiting any requests for new credit.
Using programs like Experian Boost or UltraFICO to add a strong banking history or consistent on-time utility payments to your score.
Investing a few months in improving your credit score can make a significant difference in the loan that you're offered, and may save you a great deal in interest over the life of the loan.
SCHEDULE A TEST DRIVE AND VISIT NORTH COAST AUTO MALL IN AKRON
Gather the necessary documents for your new vehicle purchase and head into North Coast Auto Mall of Akron today to start exploring your options. We can answer all your questions and walk you through the car-buying process. With our team, getting into a new vehicle is easier than ever. Contact us to learn about your personalized financing options and to take the first step towards your dream car.