Volunteer in Akron, OH
Volunteering builds relationships, provides development opportunities and educational programs, and has a positive impact on the daily lives of many people. It also fosters personal development. If you want to help nonprofit organizations in the Akron, Ohio area, here are some of the best opportunities to volunteer locally.
More Around Akron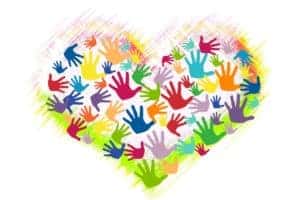 "Heart Hands Volunteers" licensed under Pixabay by geralt
FIRST GLANCE STUDENT CENTER, INC.
First Glance Student Center is a nonprofit Christian organization that serves junior and senior high school students. The mission of First Glance is to offer children a loving, safe place to socialize while connecting them to Christ. First Glance provides programs like Rec Night, which give children recreational activities to do with friends and mentors in a safe environment. Another service First Glance provides is a program that teaches teenage moms basic life and parenting skills, like financial management and emotionally nurturing child care.
First Glance has several mentor programs, including two leadership programs for younger and older teens, a program that helps young pre-teen and teenage girls learn relationship skills, and a similar program for developing the character of young men. According to their website, they help over 500 children per year, serve over 3,3000 meals annually, and they have already served over 5,000 children. There are many opportunities to volunteer at First Glance. Previous volunteers feel that they help make a significant impact on teenagers at a very critical point of their emotional development.
First Glance Student Center, Inc.
943 Kenmore Blvd.
Akron, OH, 44314
Phone: 330-848-9685
HELPING HANDS OF SUMMIT COUNTY INC.
Helping Hands of Summit County Inc. focuses on helping women, children, the elderly, people with disabilities, terminally ill patients, and trauma survivors. The founder, Phyllis Byrd, is very active within the non-profit and stresses the organization's mission of giving those who need it a hand up, not a handout. Helping Hands provides utility assistance in cold months, cribs for babies, a safe home for children aged three to 13, and other necessities such as cars, groceries, and furniture.
Helping Hands assists hundreds of individuals and families per year. Volunteers are always welcome at this charitable organization. Many of those who at one point use their services go on to volunteer at Helping Hands when their lives are in a stable position again. If you want to volunteer in a hands-on organization where you will be doing a variety of things to help those temporarily less fortunate, Helping Hands makes a great choice.
Helping Hands of Summit County Inc.
P.O. Box 2660
Akron, OH, 44319
Phone: 330-773-7731
Email: [email protected]
FIRST TEE
First Tee is a nonprofit organization that helps children build integrity and develop mental strength through the game of golf. The combination of golf and life skills enables children to have active character-strengthening experiences. First Tee partners with schools and community centers to extend its reach. Golf enthusiasts will find volunteering at First Tee very rewarding. You can apply as a volunteer coach and mentor, and they appreciate cash donations and donations of golf equipment.
First Tee
2000 South Hawkins Avenue
Akron, OH, 44314
Phone: 330-375-2638
Email: [email protected]
OPEN M
Open M is a Christian ministry whose mission is to reduce poverty and promote health. Open M helps break the cycle of poverty by providing assistance to low-income families through food, health, and employment services. Open M provides a significant amount of food annually to those in need, along with clothing, diapers, and other necessities. Health assistance includes their free clinic and counseling services. Employment services such as tutoring and job training programs help reduce poverty by making it possible for clients to qualify for higher-paying jobs.
Open M relies on over 1,000 volunteers per year to provide these services, and many of these volunteers continue to work for years with the organization.
Open M
941 Princeton St.
Akron, OH, 44314
Phone: 330-434-0110
Email: [email protected]
AKRON ZOO
The Akron Zoo focuses on the protection and conservation of the natural environment and animals. The zoo has many volunteer opportunities and relies on its volunteers for its daily operations. Volunteers combine their passion for animals with providing enrichment programs and connecting with zoo guests. In addition to its adult volunteer program, Akron Zoo has a teen volunteer program for teens ages 14-18.
Their volunteers help with attendance growth by improving guest experiences and expanding the reach of their educational programming and conservation messaging. Zoo volunteers work on special events, create zoo displays, and conduct educational programs. The assistance of volunteers makes the programming of the Akron Zoo possible, and its volunteers provide over 13,000 hours of service annually.
Akron Zoo
505 Euclid Ave.
Akron, OH, 44307
Phone: 330-375-2550
SUMMIT METRO PARKS
Nature lovers will enjoy volunteering at Summit Metro Parks, the second-oldest park district in Ohio. The park district conserves and sustainably manages natural resources, and promotes connecting with nature through maintenance and development of the area's parks.
As a park volunteer, you can perform a one-time service day, or you can commit to ongoing volunteer activities. Various projects arise each year that require volunteers, such as the tree-planting program celebrating the park's centennial event. Summit Metro Parks deeply appreciates the work of their volunteers and recently began giving a volunteer-of-the-year award. If you have a passion for natural science and for sharing this knowledge with others, the park volunteer position may be a good fit.
Summit Metro Parks
975 Treaty Line Rd.
Akron, OH 44313
Phone: 330-867-5511
STAY CONNECTED TO AKRON AND SUMMIT COUNTY ALONGSIDE NORTH COAST AUTO MALL
Volunteering serves the needs of many people in the community, and there are numerous benefits of becoming a volunteer. This list gives you a great foundation for some of the best volunteer opportunities in the Akron area. If you have stories to share about how volunteering has impacted your life, please contact the staff at North Coast Auto Mall and share your experience. North Coast Auto Mall supports volunteering and appreciates the value it gives to the world.
If you have any questions about volunteering in the Akron area, reach out and the friendly staff at North Coast Auto Mall will be happy to help you.