Used vs Certified Pre-Owned
Purchasing a used vehicle rather than a brand new model is a smart financial move as it enables you to avoid the steepest part of the depreciation curve when owning a car, which can decrease as much as 20% to 30% during the first year of ownership. When you're shopping for a used car there are two types of pre-owned vehicle to choose from: Certified Pre-Owned, and a traditional used car. CPO vehicles are found at traditional franchise dealerships and each CPO model meets a stringent inspection process set by the vehicle manufacturer. Used cars, while not backed by a manufacturer approval process, can still be a better option when comparing price, accessibility, and credit approval. 
In this guide, we compare the differences between used and certified pre-owned vehicles. To learn more about the used car shopping process, and what to look out for, contact our team and we'll be happy to help you with any questions you may have.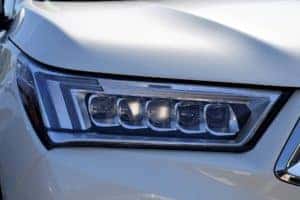 "Acura Headlamp Hood Diamond Cut" licensed under Pixabay by ArtisticOperations
Inspection Process & Manufacturer Requirements
The criteria for Certified Pre-Owned certification may vary depending on the automaker's CPO program, but they typically include age and mileage requirements and the approval of an intensive inspection process. For example, Volkswagen CPO candidates must be no more than six model years old and have fewer than 75,000 miles on their odometers. Additionally, they're required to pass a rigorous 112-point inspection to make sure they're in tiptop condition. Due to the stringent standards of a CPO program, CPO vehicles are considered the most reliable used cars on the market. 
By contrast, traditional used vehicles can vary in terms of overall condition. Though at North Coast Auto Mall of Akron, you can find reliable used vehicles that have been carefully driven and properly maintained. In this case, a used car at North Coast Auto Mall may be comparable to the quality CPO model. If you're planning to buy a used car, it's best that you shop at a reputable used car dealership like North Coast Auto Mall. We have a service center that inspects and maintains all the used vehicles that pass through our dealership lot so you can be sure that your next used car is reliable.
Warranty Differences
One of the biggest benefits of buying a CPO vehicle is that you'll receive a manufacturer-backed warranty on your Certified Pre-Owned model. Although the warranty's duration and coverage levels may differ from one CPO program to another, you'll have at least some protection that you usually won't get with a traditional used car. In most cases, the warranty includes bumper-to-bumper and powertrain coverage.
Our dealership offers different warranty options, covering 30 days, as well as an extended warranty option that covers engine, transmission, and other repairs. Usually, a used car is sold as-is, meaning you'll be responsible for any repairs your car needs after you bought it. For greater peace of mind, you may want to consider buying an extended warranty if it's available for your model. 
Additional CPO Benefits
Other than a manufacturer's warranty, a CPO vehicle also comes with an array of perks. The most common perks include a CARFAX vehicle history report, complimentary maintenance for a set length of time, 24-hour roadside assistance, trip-interruption insurance, and a free trial satellite radio subscription. Some dealerships also have special auto financing deals or a return policy on CPO cars. 
Loan Approval & Used Car Financing
Not only are traditional used cars generally more affordable than CPO vehicles, you are also more likely to get approval for financing a used car if you're experiencing issues with a poor or low credit score. Our dealership is a buy here pay here dealership, meaning that you can finance your purchase with our dealership instead of having to adhere to stricter finance requirements set by the auto manufacturer's finance network. To discuss your personalized financing options and your car buying goals, contact our team and we'll be happy to help.  
Explore Our Pre-Owned Inventory at North Coast Auto Mall or At One of Our Franchise Locations
North Coast Auto Mall of Akron has a trusted reputation for offering reliable used cars at tough-to-beat prices. However, if you prefer to buy a CPO vehicle, you can visit one of our sister locations nearby like Volkswagen of Streetsboro or Nissan of Streetsboro, each with their own Certified Pre-Owned program and certification. For more information about CPO vs used vehicles, or to answer other questions you have about used car shopping, contact our team and we'll be more than happy to help you find a car that matches your goals and budget.