Used Car Buying Checklist
Shopping for a used car can be a daunting prospect, but using a checklist of steps to follow when buying a used car can simplify that process. It's important to prepare your checklist in advance because when you're on the spot, it's easy to forget questions you should ask, which parts of the car to inspect, and documents you'll need to have with you when you visit the dealership. Keep the following points in mind to make your shopping experience painless and ensure that you end up with the right car for the right price.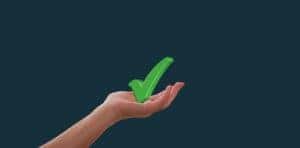 "Check Hook Mark" licensed under Pixabay by geralt
WHICH DOCUMENTS ARE ESSENTIAL TO BRING TO THE DEALERSHIP?
There are several documents you should bring with you when you're shopping for a vehicle. Make sure you bring your valid driver's license with your current address. Your driver's license information must match the address your financial institution has on file for you for verification purposes when it comes time to pay for your new-to-you car. Next, if you're planning to finance or lease your vehicle, you'll need to provide your proof of income via a bank statement or paycheck stubs. Employment verification is essential to a dealership, as it shows you have the means to make your monthly payments.
To apply for a car loan, you'll also need to provide proof of residency by bringing a current utility bill with you. Bring proof of car insurance for your current vehicle along to show the dealership that you have valid insurance to transfer to the vehicle you're going to purchase. If you're planning on trading in your current vehicle, you must have your car's title with you, or the buying process will be slowed down considerably.
SOME HELPFUL ITEMS TO BRING TO THE CAR LOT
Bring along a pad of paper and a pen. You may want to jot down some notes on the vehicles you're browsing. You should write down the VIN (vehicle identification number), mileage, and list price for each vehicle you're considering.
If you have browsed our website and have a specific vehicle in mind, you can have the auto history report available (such as the CarFax) when you come to the lot.
It's also helpful to have a flashlight to check under the car for leaks or rust.
WHAT SHOULD I INSPECT ON A USED CAR?
Before purchasing a used car, you'll need to conduct a thorough inspection. If you don't feel qualified to do so, the dealership should permit you to take the used car to a mechanic you trust. You might opt to do that anyway, even after conducting a visual inspection, since mechanics have testing tools and the means to find hidden problems.
There are many components of a used car that need to be investigated, but here are some starting points for a visual inspection:
Exterior and tires. You'll want to make sure the body is free of damage, all the entry locks work, the windshield doesn't have cracks, all the headlights and direction signals are in proper working order, the tires are in good condition, and that the spare tire is present and properly inflated. Check that the trunk unlocks easily and that you can pop the hood without difficulty.
Engine and suspension. There shouldn't be any fluid or oil leaks. When you check the oil, it should not be dark or black. The battery should be free of corrosion. When the car is running, it shouldn't give off any noticeable odors, nor should any smoke be coming from the tailpipe. Current emissions test results should be available from the car dealership. If emissions tests aren't standard in your state, you can still have them independently checked by a mechanic.
Necessary tools and accessories. Ensure that everything is present in the trunk, hatch, or other storage areas. A jack and a lug wrench should be present. Check the glove box for the car manual. Ensure that the vehicle security system works if one is present. Ask the dealer if the service and repair records are available.
WHAT SHOULD I EXPECT ON THE TEST DRIVE?
During your test drive, you'll get a chance to see if you like driving the vehicle and if it has any notable driving defects. The steering should be smooth, responsive, and accurate. The braking should be responsive, and the brake pedal and steering wheel shouldn't shake during braking. The vehicle shouldn't vibrate, shimmy, or shake while driving or at a complete stop. You don't want the vehicle to drift to one side or the other. The alignment should be stable. If you let go of the steering wheel briefly, the vehicle should continue to maintain forward motion straight ahead.
Before, during, and after your test drive, you'll also get a chance to assess the interior of the vehicle. Look at the condition of the front and back seats. Ensure all of the gauges on the dash work, and of course, check that there are no engine warning lights on. Try out the heat, defrost, and air conditioning regardless of the time of year you're test driving the vehicle.
Make sure the windshield wipers work correctly and the windshield washer fluid dispenses correctly. Check the hazard lights. Ensure all aspects of the infotainment system are operational, and if the car is a newer model, check that the Bluetooth connectivity works.
VISIT NORTH COAST AUTO MALL OF AKRON TO EXPLORE OUR USED INVENTORY
If you've done your research prior to shopping in person and know how much you can afford to spend, you'll be able to find the right used car for your needs. Arrive at the dealership knowing which models you're interested in, any specific features or auto parts you're looking for, and features that are deal-breakers. The more prepared you are upon arrival at the dealership, the more likely you'll leave happy in a new-to-you vehicle.
When you're ready to start the process, reach out to the knowledgeable team at North Coast Auto Mall in Akron. We'd be happy to answer any questions you may have, walk you through the approval process for financing, value your trade, and get you into the vehicle of your dreams for a test drive. Stop by and visit us today!