The Best Places to Get Pancakes in Akron, OH
Akron, Ohio, is the perfect place to pick up a pile of delicious pancakes. Whether you want to start your day or enjoy breakfast for dinner, there are plenty of scrumptious dishes to choose from. Here are some of the best places for pancakes in the area.
Honeymoon Grille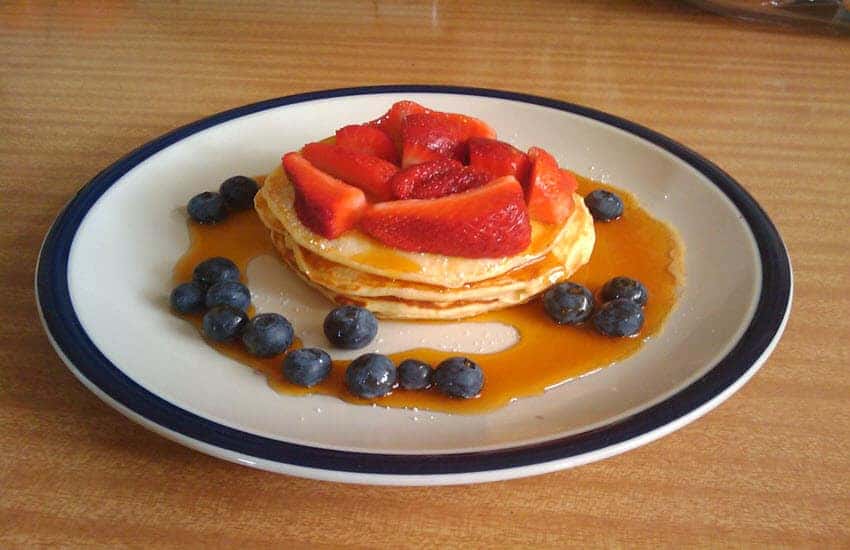 "Breakfast in Bed (Buttermilk pancakes)" licensed under "CC By 2.0" by Paul Fenwick
The Honeymoon Grille in Akron offers single-, double-, and triple-stacked buttermilk, whole wheat, and pumpkin pancakes. A variety of toppings are available, including chocolate sauce, fruit, walnuts, pecans, bacon, blueberries, chocolate chips, and vanilla ice cream.
Other options include stacks of up to three slices of brioche French toast or rich Belgian waffle sundaes with Belgian waffles, vanilla ice cream, whipped cream, chocolate sauce, and a cherry. The chili omelet has homemade chili, jalapenos, cheddar cheese, and sour cream, and the Mediterranean omelet contains black olives, feta cheese, banana peppers, tomato, and spinach. The avocado omelet comes with bacon, peppers, mozzarella cheese, salsa, sour cream, and avocado.
If you're in a hurry, try Julie's Jumpstart Wrap with egg whites, spinach, tomatoes, turkey sausage, cheese, and spicy mustard. If you're feeling hungry, order The Captain, an 8-ounce top sirloin steak with home fries, two eggs, and toast.
You can also choose an English muffin, a croissant, a gravy biscuit, old-fashioned oatmeal, or grits with butter and toast. With your breakfast, enjoy hot or iced coffee or tea, juice, hot chocolate, an old-fashioned milkshake, pink lemonade, or a cappuccino. The Honeymoon Grille is open from 6:30 a.m. to 2 p.m. on weekdays, 6:30 a.m. to 3 p.m. Saturday, and 7 a.m. to 3 p.m. Sunday.
Mike's Place
For a hearty breakfast, visit Mike's Place in Kent, about 25 minutes away from Akron. The Stuff Your Cakes pancakes have blueberries, bananas, strawberries, granola and honey, apples and cinnamon, or chocolate chips. You can also get pancakes with Oreos and whipped cream or Reese's Pieces.
The Belly Buster is a huge breakfast plate with three eggs, three sausage links, bacon, hash browns, a pile of pancakes, biscuits, toast, and a side of sausage gravy. Joe Mama's Extreme Waffle comes with sausage, bacon, hash browns, scrambled eggs, Cheddar cheese, and sausage gravy. Many customers on the go prefer the chicken and waffle sandwich, a big but easy-to-handle stack of bacon, Swiss cheese, and chicken cutlets between two waffles.
For a smaller meal, try the Corned Beef from the Land of Queso, a cheesy plate of house-made corned beef hash, or the Italian scramble, two eggs with hash browns, onions, pepperoni, Italian sausage, mild pepper rings, mozzarella cheese, and toast. You can add pancakes to any meal for a small fee. Mike's Place is open daily from 7 a.m. to 9 p.m.
Wally Waffle
At Wally Waffle, you can find delicious pancakes and wonderful waffles. The Elvis Cake Stack is a pile of pancakes filled with cooked bacon bits and topped with peanut butter, bacon, honey, banana slices, and whipped cream. The apple pie pancakes come covered in warm glazed apple slices, pie crust crumbles, cinnamon, sugar, and whipped cream. For sweet pancakes with a tropical twist, try the cocoa nut cakes. They have chocolate chips, coconut shavings, banana slices, whipped cream, and chocolate sauce. Strawberry, blueberry, chocolate chip, and pecan pancakes are available as well.
The club breakfast includes three pancakes or French toast slices with two eggs and your choice of breakfast meat. This place is open from 7 a.m. to 2 p.m. on weekdays and from 7 a.m. to 3 p.m. on weekends.
Over Easy at the Depot
For a delicious sit-down breakfast, check out Over Easy at the Depot. This place has some of the largest pancakes in the area, and patrons love the Sweet'n It Up waffle or pancake. It comes with bananas coated in brown sugar, strawberries and whipped cream, s'mores, or a blueberry Danish. The pancake flight lets people choose any three pancake flavors, and the cake and eggs come with two eggs made the way you like them, your choice of breakfast meat, and a stack of buttermilk pancakes.
If you're in a hurry, you can grab a sandwich with smoked salmon, turkey sausage and cheese, chorizo and potato, or spicy egg, bacon, and cheese. You can also pick a classic BLT, classic burger, BLT with egg, corned beef sandwich, or a Monte Cristo on French toast. The Off the Rails breakfast burger comes with a one-third-pound beef patty, applewood smoked bacon, a fried egg, cheddar cheese, and bacon jam between two glazed donuts. On weekdays, you can visit Over Easy at the Depot from 7:30 a.m. to 2:30 p.m. On weekends, it's open from 8 a.m. to 2:30 p.m.
European's Best Restaurant and Bakery
If you feel like a taste of Europe for breakfast, head to European's Best Restaurant and Bakery in Strongsville. It's about 40 minutes away from Akron, but it's worth the trip. The short stack comes with two pancakes or two pieces of French toast and two extra-large eggs made any way you like them. The buttermilk pancakes come in stacks of up to three, and toppings include strawberries, blueberries, diced apples, or chocolate chips. Along with your pancakes, you can order a house-made crepe, oatmeal with raisins, walnuts, or blueberries, an English muffin, or a bagel.
The massive pigs in a blanket come with three full-sized pancakes wrapped around sausage links. For a heartier breakfast, try a stack of three potato pancakes with sour cream and applesauce. There are a lot of omelets to choose from, including Spanish, Hungarian, Italian, Swiss, hot Spanish, meat-lovers, and Western varieties. You can visit European's Best Restaurant and Bakery from 7 a.m. to 3 p.m. Saturday through Thursday and 7 a.m. to 7 p.m. Friday.
These are some of the best pancake places near Akron, Ohio, and there are many other great breakfast restaurants in the area. Did we miss any of your favorite places to start your day? Contact us at North Coast Auto Mall and let us know where you like to eat most.