The Best Burgers in Akron, OH
Akron is a city rich in history, famed for its tire manufacturing and presumed to be a hamburger inventor. Two natives from Akron, Frank and Charles Menches, profess to have invented the hamburger in 1885. They were at a county fair in New York when they ran out of sausages for their patty sausage sandwiches. They pounded beef, incorporated it with coffee, brown sugar, and additional condiments, and presented it in the middle of two bread slices.
The burger has since developed into an acceptable and timeless food, featured in menus from high-end restaurants to fast food joints. Americans consume an average of 50 billion hamburgers per year, and Ohio ranks among the top five states with the most burger stations. The different meats and vegan options, price, and taste make burgers an easy go-to cuisine. If you happen to be in the rubber city, here are six of the most popular burger joints in Akron to check out.
Bobs Hamburg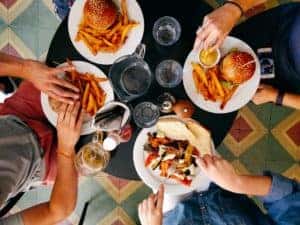 Image via Unsplash by Dan Gold
"four person earring on black wooden table photo" licensed under Unsplash by Dan Gold
Bob's Hamburg, located at 1351 East Ave., Akron, Ohio, has served locals since 1931. The restaurant creates burgers using recipes and spices that have passed the test of time. Their burgers have fresh buns, juicy meat, and a side of fries that will make you a regular after your first visit.
Their menu boasts over eight types of burgers to suit everyone's palate. The patties are fresh, not frozen, and cooked as you watch. The employees and the owner are a friendly bunch. Once in a while, you may get lucky and catch a wrestling match or music concert presented in the parking lot.
Butcher and Sprout
If you're keen on non-GMO and organic food, Butcher and Sprout, located at 1846 Front St. in Cuyahoga Falls, is the place to be. Butcher and Sprout source their food locally and keep it as fresh as possible. The menu has seven burger options and a gluten-free bun choice. Fresh juicy meat and a delicious balance of spices add to the joint's fame. The meat is prepared at medium unless otherwise requested and their portions are very generous.
The business has invested in decor, big screens, and table games, providing an excellent atmosphere for hanging out with friends and families. They have a non-alcoholic option for their drinks. If you are in a hurry, they have a pickup station and offer delivery.
Twisted Meltz
Located at 164 E. Main St. in Kent, Ohio, Twisted Meltz has a creative menu incorporating local heroes' names. The restaurant offers an array of toppings, cheese, and bread, including gluten-free options. Twisted Meltz has a vegan replacement for the cheese and a black bean burger as a healthier option for enthusiasts. Their fries are crunchy, and the meat is juicy. With their generous and filling portions, you'll probably leave with leftovers.
A crafty selection of beers is displayed in the coolers for you to quench your thirst. Over the years, their burger has grown from a simple recipe to include a variety of toppings from cheese to pickles and mustard, lettuce leaves, and other additions. At Twisted Meltz, you're free to be creative and customize your burger using the available ingredients. If you feel like having some comfort food, this is the place to visit. The space is also suitable for family dining.
Hamburger Station
As the name suggests, Hamburger Station is a renowned stop for excellent burgers located at 710 Canton Road in Akron. If you love fresh onions on your burger, fresh fries, and good service on a budget, make plans to visit Hamburger Station. Their menu is affordable and has various packaging, from a speed pack to a family pack.
The restaurant was opened in 1975 and has accumulated a lot of history and experience. Their meat is lean and fresh, their buns are freshly baked, and their fries are unmatched in the entire area. At the Hamburger Station, all preparations are done by hand, including cutting the fries. When you're in no rush, try their drive-through option. Although it takes time to prepare your orders because of the long queue, the meals they offer are worth the wait.
Darby's on 59
If you have a date and fancy an old-fashioned setup that serves a nice burger, visit Darby's on 59, located at 2764 Front St. in Cuyahoga Falls. The restaurant offers a perfect spot for meeting family and friends. They have a lovely outdoor patio with tables and umbrellas, allowing you to enjoy the breeze as you dine. The outdoor area has several small igloos huts you can eat in. Monday nights are burger nights, with special deals on various signature burgers.
Although the inside is smallish, the setting resembles a warm tavern with pleasing seasonal decor to welcome you. You have the option of scanning the menu with your phone, but the staff will offer a pen and paper upon request. The staff is superb and very informative. The food is fresh, and the ingredients used are of the highest quality.
Dante's Gameday Grill
Are you in a sporty mood and looking to hang out with friends? Do you feel like enjoying a football game or listening to music from a jukebox while savoring a juicy burger? Dante's Gameday Grill, located at 1019 N. Main St. in Akron, has plenty of TVs to watch all the games as you eat. Word on the streets is that they have the best fries in Akron, served in huge portions alongside perfectly cooked burgers. The waiters and regulars are very friendly and easy to mingle with.
The ambiance allows for relaxation, especially after a long day. You can sit at the bar and enjoy a good selection of beer as you eat your burger. Dante's Gameday Grill has a remarkable collection of sauces that complements everything on their menu.
So there you have it, North Coast Auto Mall – Akron has just given you an insight into the best burger places in Akron. Did you find our list satisfactory? We hope you did, but drop us a line if we missed your favorite burger place. We'll be sure to add it to our list.