How to Apply for a Car Loan
Purchasing a car is an exciting prospect, but the actual process of getting into a new or new-to-you vehicle can seem daunting. If you're unable to purchase your vehicle in cash, you'll need to take out an auto loan. Car loans come in many forms, and your monthly payments can vary greatly from one loan offer to the next. If you're getting ready to apply for a car loan, here's what you need to do.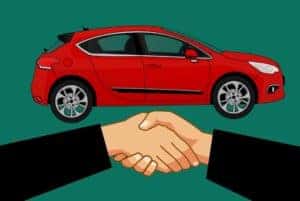 "Shake Hand Buy Car" licensed under Pixabay by mohamed_hassan
Know Your Credit Score
Your credit score plays a major role in the type of car loan you can get, so it's important to know what you're working with. You're entitled to a free copy of your credit report once a year from each of the three major credit reporting agencies: Experian, TransUnion, and Equifax. If you stagger these, you can request a copy of your credit report once every four months and continually stay on top of your credit situation.
Carefully review your credit report to make sure there are no inaccuracies. Any incorrectly reported account can have a significant impact on your overall score. Each reporting agency calculates your overall credit score differently, but checking in with even one of them should give you a general idea of where you are.
The typical range for FICO scores is:
Exceptional: 800-850.
Very Good: 740-799.
Good: 670-739.
Fair: 580-669.
Very Poor: 300-579.
If your credit score is very poor or fair, you may want to work on improving it some before you apply for an auto loan. A whopping 35% of your score comes from your payment history. Make sure you're not making any late payments, and always pay at least the minimum due. Another 30% of your credit score is determined by credit utilization. You can improve this part of your score by paying down your overall balance.
The higher your credit score, the more favorable your loan terms are. Whenever possible, take the time to boost your credit score as much as possible before you apply for a car loan.
Examine Your Budget
Carefully consider your monthly budget as you're preparing to take out a car loan. You must make timely payments each month to keep your loan in good standing. If you can't afford your car payments, your lender may repossess your vehicle. Though it's tempting to go for the top-of-the-line vehicle, it's important only to buy what you can afford.
Track your expenses each month for at least three months. Calculate what you spend on all your routine expenses, including:
Rent or mortgage.
Utilities, including electricity, water, sewer, and internet.
Trash pickup.
Insurance.
Monthly credit card or loan payments.
Gas.
Groceries.
Toiletries, such as soap, shampoo, and makeup.
Household supplies like toilet paper, trash bags, and paper towels.
Pet care and supplies.
Child care.
Education.
Entertainment, including streaming services, eating out, and event tickets or admission.
Next, determine how much you make each month. Subtract your expenses from your income to see how much is left. Ideally, you will place at least some of the remainder into a savings fund for emergencies like car repairs, medical bills, or a period of unemployment. Your new car payment should never exceed the difference between your income and your expenses.
Prepare Your Down Payment
When purchasing a new car, you're generally advised that you put at least 20% down. For a used car, you might decrease this amount to 10% of the purchase price. After examining your budget, you'll have a general idea of what you can afford to pay monthly on a car loan. You can use an auto loan payment calculator to experiment with different numbers and determine what kind of car you can afford.
Once you know what price range you're looking at, you'll have an idea of how much you need for a down payment. The larger your down payment, the less you have to take out for your auto loan. It's best to make the largest down payment you can afford because you won't pay interest on this portion of the purchase.
Compare Lenders
Now that you've cleaned up your credit score and taken time to understand your budget, you can start exploring different lenders for your auto loan. You might consider options like your bank or credit union, a credit card company, or the dealership itself. You can compare the terms from different lenders to determine which is the best option.
When you're comparing loans, you should consider:
The loan term. Make sure the loan won't outlast the usefulness of the vehicle, especially when buying used.
The interest rate. Your interest rate determines how much you're paying for the convenience of taking out a loan.
Many lenders allow you to prequalify for a loan, so you can head to the dealership in complete confidence, knowing what you can afford to pay for a vehicle. This ability helps you know which cars you should look at and which ones are out of your budget.
Apply for a Loan
To apply for a car loan, you will typically need several pieces of information. Preparing these ahead of time will simplify the application process.
Proof of income, such as pay stubs or tax returns.
Proof of residence, like a utility bill or other professional correspondence.
Proof of insurance.
A photo ID with your signature.
Two months of current bank statements.
If you're applying for a car loan at a dealership and want to trade in your existing vehicle, you will also need your current vehicle's title and registration to complete the transaction.
Getting a car loan makes it possible to drive away in a great vehicle, even if you don't have the full purchase price in hand. At North Coast Auto Mall – Akron, we can help you get the financing that you need for a great new-to-you car. You can even get prequalified or value your trade online, so you're ready to expedite the shopping process when you arrive on the lot. Contact our team today to learn more.