How Long Does it Take to Pay Off a Car Loan
Financing a vehicle can seem like a daunting experience, but with some guidelines about your options, you can better prepare yourself for the process. That's why North Coast Auto Mall is here to answer important questions like "how long does it take to get approved for financing?" and "how can I pay off my car loan early?" to help you make the most of your auto financing.
HOW LONG DOES IT TAKE TO GET APPROVED FOR A CAR LOAN?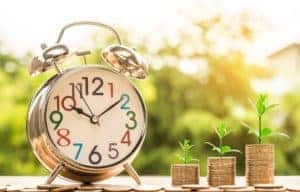 "Clock Money Growth" licensed under Pixabay by nattanan23
It can take as little as a few minutes or as long as a few weeks to get approved for a car loan, but your approval timeline can vary based on the following factors:
Pre-approval with a lender.
The type of lender.
Your credit score and history.
Your financial documentation.
The type of car you want to purchase.
Financing through the dealership may get you approved the same day, while going through an online lender, bank, or credit union may take a few days to a few weeks to finalize your approval.
At North Coast Auto Mall, you can speed this process up by filling out the pre-qualification application on our website. All you have to do is provide your name and contact information as well as your social security or tax ID number. Then, we process your application, review your credit history, and tell you whether you're pre-qualified for financing. You can always contact our dealership
HOW LONG DOES THE AUTO LOAN FINANCING PROCESS TAKE?
Here are the steps you take when you need auto financing:
Submit your application. Whether at home or at the dealership, this process typically takes about 15 to 30 minutes, depending on the amount and type of information you need to provide your prospective lender.
Get pre-approval from the lender. Many lenders tell you on the day of your application whether you are pre-approved for a loan. Some lenders do not.
Accept your final offer. After offering pre-approval or accepting your application, the lender sends your official approval offer with interest rate and monthly payment.
Pay for the vehicle. The amount of time it takes for your lender to send the funds may vary from a few days to a few weeks.
HOW LONG DOES A CAR LOAN TAKE TO PAY OFF?
Many auto loans come with 60-month or 72-month payoff timelines. However, you can often pay off the car loan early to prevent additional interest from accruing, save money each month, and even improve your credit score.
HOW DO YOU PAY A CAR LOAN OFF QUICKLY?
Here are seven great ways to stay on top of your payments and pay down your loan early:
AVOID SKIPPING PAYMENTS
Some lenders allow you to skip a payment or two throughout the life of your loan. While this may save you money in the short term, it can lead to more interest accrued on the loan.
PAY HALF PAYMENTS TWO TIMES PER MONTH
Split your monthly payment in two, which means paying 26 half-payments per year or 13 whole payments per year, one more than you need to pay.
ROUND YOUR PAYMENT UP
Add a little extra to each payment by rounding up to the next quarter or half of $100. For example, if your monthly payment is $215, consider paying $10 extra to make it $225 or $35 to make it $250. These extra dollars can really add up; in this example, you'd pay $120 to $420 more per year.
MAKE ONE LARGE PAYMENT EVERY YEAR
When you get your tax return, a work bonus, or cash gift, consider putting it toward your car payment, which can lower the amount of interest you pay.
MAKE A LARGE PAYMENT EARLY IN YOUR LOAN'S LIFE
Consider making an even bigger large payment at the beginning of your loan to pay off interest sooner.
REFINANCE YOUR LOAN
Go through your lender to renegotiate the monthly payment and loan terms. This can be a great option if you're offered a lower monthly payment and/or sooner payoff date.
CHECK FOR EARLY PAYOFF PENALTY FEES
Some lenders may charge you a repayment penalty fee if you pay off your loan early. Ask your lender whether they charge this fee. If they do, consider how much paying off the loan early will save you compared to how much the fee costs.
FIND FINANCING AND CAR LOAN HELP AT NORTH COAST AUTO MALL
Having these answers can help you navigate the auto financing process and make the best financial investment for you. At North Coast Auto Mall in Akron, we pride ourselves on providing our customers a variety of auto financing options to get you into the car of your dreams. Contact our dealership team today to see how we can help!