Date Night Ideas in Canton, OH
Whether an important day is on the horizon or you just want to do something nice with your loved one, planning a romantic date is an excellent way to show your partner you care. When preparing for a romantic excursion in Canton, you'll have no shortage of fantastic date opportunities. This guide from our local business in Akron has everything you need to plan a fantastic night out and find the best locations for your date in the Canton area.
TIPS FOR PLANNING A ROMANTIC DATE NIGHT IN CANTON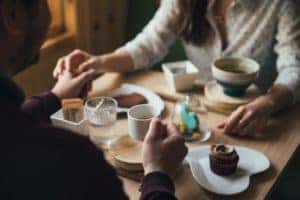 "People Man Woman" licensed under Pixabay by StockSnap
If you're planning a date and want to make it romantic and special, these tips can help you create a night to remember for years to come:
Set your budget ahead of time: When planning a date night, you have many fantastic options to choose from in and around Canton. One of the best ways to narrow your options down to a short list is to set your budget for the night. You can have a great time at a luxury dining establishment or find excellent food on a budget — whatever fits your mood. By knowing how much you want to spend, you can find restaurants and plans that match your goals.
Consider both partners: Another important consideration is planning for both partners. When organizing a date night, you might be simply looking to spend time with your partner, or you might be celebrating a special occasion. Even in the latter situation, it's helpful to think about both partners' interests and preferences. This can allow you to plan a date night that makes the individual of honor feel special without neglecting the other person's needs and comfort.
Try something new: Date nights are excellent opportunities to shake things up and try something you and your partner haven't done. Not only does this allow you to have new and exciting experiences, but it can also help keep things feeling fresh in your relationship and turn the date night into something special.
Plan sections throughout the night: When organizing your date, plan for a night with several sections. For example, you can take a walk along the boardwalk in the evening, which leads to dinner at a boardwalk restaurant. After you've eaten, you and your date can enjoy a show. This keeps the night progressing from phase to phase and maximizes the number of positive experiences and memories you come away with.
9 GREAT LOCATIONS FOR A ROMANTIC DATE NIGHT IN AND NEAR CANTON
Now that you know what you're looking for with your romantic date night, it's time to find the right locations. These are our favorite romantic date night spots around Canton:
BASIL ASIAN BISTRO
For tasty Asian cuisine, you can't beat Basil Asian Bistro. Order delicious sushi rolls ranging from $8 to $14 apiece or sampler platters that allow you to try several options and share. If you love Asian food, it's the perfect addition to any romantic date night.
CANTON FOOD TOURS
If you and your partner are foodies, you might enjoy adding a Canton Food Tour to your romantic plans. On a food tour, you'll travel around the city sampling delicious bites from some of the best restaurants in Canton. Tickets cost between $50 and $60 and offer a full meal's worth of dining from the various stops.
CANTON PALACE THEATER
The Canton Palace Theater is a historic and romantic downtown venue where you and your date can take in a show together. The theater hosts a variety of events, from live performances to movie screenings. Check out their upcoming events page to find a performance that piques your interest.
CENTER ICE SPORTS COMPLEX
Partake in a fun and romantic activity together at the Center Ice Sports Complex. Here you can skate with a partner for just $8 per person, plus a $4 skate rental if you don't have your own pair. You'll feel the love as you hold hands on the ice and skate around the rink enjoying the pleasure of each other's company.
GERVASI WINERY
Whether you're looking for a romantic night or a weekend getaway, Gervasi Winery has you covered. You can visit in the evening for a tasting and enjoy a meal at one of the winery's premium restaurants. If you want to spend more time there, you can stay overnight, with rooms starting as low as $219 per night and extending up to the luxury package in the winery's farmhouse rooms.
LOCKPORT BREWERY
If you and your partner enjoy a delicious beer, then Lockport Brewery might be the perfect stop during your next date night. You can sample the different craft beer varieties and enjoy the freshest pours right from the brewery. Pair your tasting with a delicious American fare meal.
PASSION BLUES
A night that involves both dinner and a show is always an excellent option for a date. With Passion Blues, you get both in one location for your next date. Enjoy the excellent cuisine and fantastic live music with your partner.
SAPPHIRE CITY BOARD GAME PARLOR
Sitting down over a board game might not be your first thought for a romantic night together, but with the right game, it can truly be a bonding experience. Whether you're feeling competitive or like working as a team, you can find a two-person game to play with your partner at Sapphire City Board Game Parlor. Laugh, let loose, and enjoy each other's company in a casual setting.
TOWPATH TRAIL
Spending an intimate evening in nature with a partner can be among the most romantic experiences on earth. The Towpath Trail provides scenic paths and a wonderful experience to share with a date as you take in the beautiful views at sunset together. Pack a picnic to share in a grassy area.
EXPERIENCE THE BEST OHIO HAS TO OFFER
What do you think of our list of romantic date night spots? This list was compiled from our local staff members' recommendations. Did your favorite activity or attraction make the list? If not, we'd love to hear about it. Contact us online to let us know your top spots for a romantic night with a partner and help us connect our customers and readers with the best that Ohio can offer.