Car Maintenance and Repair During COVID-19
As these uncertain times continue and more Americans stay home to distance themselves socially, you may find your vehicle being driven far less frequently than before. Letting your ride sit for too long, however, can be detrimental and impact the safety and reliability of your vehicle. That's why the team at our used car dealer in Akron is here to help with some tips and warning signs to look out for to keep your car moving!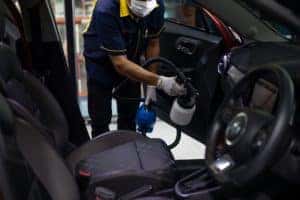 "Wash Car Protect" licensed under Pixabay by peeonelove
Don't Let Your Car Sit Idle 
Various components on your vehicle can start to break down when left sitting stationary for long periods. Vital fluids can separate, hoses may dry out or become brittle, and your brake rotors can begin to rust. Your car's battery can also discharge, leaving you in need of a jump-start to get going the next time you hit the road. Our team of ASE-certified technicians recommends driving your car for at least 20 minutes once every two weeks to keep everything working smoothly.
Perform Regular Inspections & Maintenance 
Routine maintenance and inspections have always been necessary, but it's critical now more than ever. Perform a visual inspection often and take care to check tire pressure frequently–the weight of your ride alone can cause your tires to develop flat spots. Some drivers may extend regular service intervals by not driving as often, but if your vehicle needs maintenance, North Coast Auto Mall has you covered!
Our Akron service center is open for business to meet your essential needs and is committed to adhering to the CDC's strict guidelines. Our state-of-the-art service center also undergoes deep cleanings daily, regular sanitation, and even offers special hours for senior citizens to ensure their vehicle receives the service it needs.
North Coast Auto Mall in Akron, Ohio, is Here to Help
We're here for you at North Coast Auto Mall. Please don't hesitate to contact our Akron used car dealer for more tips on how you can keep your vehicle rolling during these challenging times or schedule a service appointment.