Car Insurance with Bad Credit
Auto insurance providers consider multiple factors, including your driving history and the type of vehicle you drive. Credit score is the most important factor insurance providers review to calculate your rates and interests. Most auto insurance companies take your credit-based auto insurance score to decide whether you are a viable policyholder. They also consider the premium payments you will make if you become a policyholder.
How Credit Score Affects Insurance Payments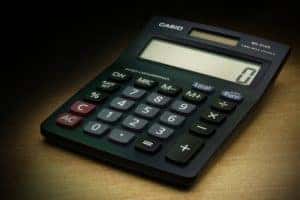 "Calculator Calculations Casio" licensed under Pixabay by shotput
Credit-based insurance scores differ from the usual credit scores, such as the FICO and VantageScore. The scores help auto insurance providers predict the likelihood that you as a consumer will file claims that will prove costly to the company, costing them more money than they collect in premiums. For this, auto insurance companies consider your credit history before giving you coverage.
Why Auto Insurance is Unique
The credit-based insurance scores used in most states to determine potential risks (Massachusetts, Hawaii, and California have banned the practice) don't use the usual work, income history, and other personal information to make their calculations. They use your driving history to determine your eligibility as a driver, and it also helps them decide which insurance rates to charge you. 
Drivers with a high credit-based insurance score, zero claims on their credit, and an excellent driving history qualify for lower rates. However, even if you have the ideal insurance score, other factors will also determine your eligibility. For example, if you have an excellent score but a bad or less-than-perfect driving history, providers might see you as a risky insurer and might get higher rates.
Other Factors Auto Insurance Providers Consider
Aside from the credit-based insurance scores, multiple other factors can influence your eligibility and rates. Some of these factors include:
Driving record

Location, since some states have banned the practice

Your demographics; gender, age, marital status

Type of vehicle

Type of insurance coverage you want

Driving experience

Driving and claims history
The make and model of your car influence the type of car insurance you will need and the auto insurance premiums.
How Insurance Payments Help Your Credit Score
Credit scores and credit-based insurance scores have differences, but they have similar behaviors. Those with high credit scores most likely also have high credit-based insurance scores. Making insurance payments can help improve both scores.
Taking action to improve your credit score will also help you improve your credit-based insurance score. Some things you can do to improve your credit score include:
Paying bills on time.

Pay down your credit card debt to decrease the credit utilization rate.

Update your account as soon as you can if you miss a payment.  

Make sure all your information is correct and updated.

Establish and maintain credit. Low credit history will hurt your score.

Don't open credit accounts you don't need. Open only those that you need.
Some things that can harm your score include collections, past-due payments, high debt levels, a short credit history, and a high number of credit inquiries.
What High-Risk Auto Insurance Means
High-risk auto insurance applies to those drivers and cars that are more likely to get into accidents. Your driving record determines if you're a high-risk driver. For example, those with multiple traffic violations, including driving under the influence, are considered high-risk drivers. 
High-risk insurance is for those who need insurance but have bad driving records. Providers consider your recent history. Violations or accidents from years back don't factor as much as a violation or accident that happened within the last year.
How to Lower High-Risk Insurance Costs
If you are tagged as a careless driver, there are ways to lower your insurance cost. Before you do that, get a sense of the costs you might incur. There are online platforms that give free online auto insurance quotes. 
Steps to Lower Your Auto Insurance Premiums 
If you have a bad driver status, here are the steps you can take to lower the premiums you get from insurance companies include:
Taking a defensive driving course. Get an agent to get approved courses that will help with your driving.

Drive defensively. You can get significant discounts if you manage to avoid accidents for three years.

Get a better car model with better safety features or with better safety records.

Stick to all traffic laws. Going for years without getting a ticket or getting a few tickets can decrease your premium.
You can also get a multiple-vehicle and multiple-policy discount if you insure multiple vehicles or have different types of insurance from one company.
Other Tips For Finding Good Insurance Rates with Poor Credit
Choosing a policy with higher deductibles or lower coverage limits is another way to lower your costs. You can also save money on insurance through purchasing liability coverage instead of full coverage, especially if you have an older vehicle without a loan or lease. It would be best to keep a strict eye on your regular expenses, such as your monthly and periodic bills. 
You can find ways to decrease your costs; some apps can help you do that, which will help you make regular and continued savings. Having good credit is also another way to help you get lower-cost financing, which can help you find a new job, get apartments easier, and get better insurance rates.
Affordable Types of Car Insurance
One of the recommended ways to get affordable car insurance, especially if you're a lousy driver, is to talk to your insurance company. Find out what services they offer or what types of policies they offer that are more affordable. You can also shop for auto insurance policies from time to time to ensure you're getting the best prices.
Insurance.com used the Quadrant Information Systems to collect data from significant insurers from all states in 10 ZIP codes for a fictional 40-year-old driver of a 2017 Honda Accord with full coverage and a $500 deductible. From their calculations, Geico was the one with the cheapest insurance for the fictional driver.
Join Us at North Coast Auto Mall
You can also visit us at North Coast Auto Mall, an independent car dealer in Ohio. We cater to internet clients, selling cars at affordable prices. We have an FAQ page to answer more of your questions related to the car buying experience. You can also fill out our pre-approval form when looking to buy a new car.