Can You Finance Two Cars At Once?
If you have a good credit score, the process of buying a vehicle is quite straightforward. All you need to do is find your ideal car, sign an auto loan contract, and drive away in your new ride. However, things get more complicated if you want to purchase two cars at once or buy another car before you pay off your existing car loan. In this case, you may wonder if it's possible to finance two vehicles at once. Let's find out.
Can You Finance Two Cars at the Same Time?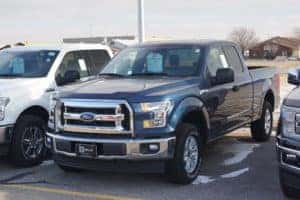 "2017 Ford F-150 XLT Pick-Up" licensed under CC BY 2.0 via Flickr by Crown Star Images
While it can be challenging, financing two vehicles at once isn't impossible. Many dealerships will think twice about granting you two auto loans at the same time because it involves more risk. Having to make two loan payments every month significantly increases your financial burden and increases your chances of becoming delinquent. If a dealership agrees to have two financing agreements with you, it often means that you have a stellar credit score and an exceptionally high income. If you're a middle-income earner, it's nearly impossible to obtain two car loans from the same dealer. 
What Factors Do Dealers Consider If You Need Financing for Multiple Cars?
Before you try to get financing for two vehicles from a dealership, it's essential to know what factors impact your approval chances. The following are a number of things a dealership will consider when evaluating your loan eligibility:
Credit Score
One of the first things a dealership will look at when considering your auto loan application is your credit history report. This report contains a lot of information about your borrowing history, including your credit accounts, late or missed payments, and collections. With such information, a dealer can more accurately determine if you're capable of managing new loans along with your existing ones. 
A credit score of 740 to 850 is considered excellent. Being in this credit score bracket can help you secure financing for two vehicles. It shows that you've successfully kept up with most or all of your loan payments in the past, making you a low-risk borrower. In addition, an impressive credit score enables you to get lower interest rates.
Debt-to-Income Ratio
Your debt-to-income ratio is a comparison of your monthly debt and your monthly gross income. Your monthly debt may include your mortgage payments, credit card payments, and personal loans. A dealership will usually check your debt-to-income ratio to see how much debt you can manage before you start experiencing financial difficulties. They also use the ratio to calculate how much money they should lend you. The maximum debt-to-income ratio allowed may vary from one dealer to another, but it's advisable that you stay within the 28% to 36% range if you need financing for two cars. 
Income and Employment
Your income and employment have a significant impact on your odds of getting approved for auto financing. If you have a stable job and a high income, you're more likely to fulfill your loan obligations, even if you're financing two cars at once. Having additional income through sources such as investments and rental property will further boost your loan eligibility. 
How Do Multiple Car Loans Affect Your Credit Score?
Financing two vehicles at the same time can improve or hurt your credit score depending on how well you manage your debts. If you can make your monthly payments for both auto loans on time, you'll likely see a considerable increase in your credit rating. On the other hand, if you defer or miss any payments, you can expect your score to take a hit.
What Are Your Options If You Want to Finance Two Vehicles at Once?
Getting financing for two vehicles can be a daunting task, but that doesn't mean you should give up. Below are a few things you can do to improve your loan approval chances:
Take out a personal loan:

If you cannot get two auto loans from a dealership, you may want to consider financing one of the vehicles with a personal loan. A personal loan often has more relaxed eligibility requirements than an auto loan, but it typically comes with a much higher interest rate. You may be able to borrow up to $100,000, which is more than enough to buy a car. 

Enlist a co-signer:

If you have a family member, relative, or friend who has a good credit score, you can ask them to become a co-signer on your

car loan

. Having a co-signer means that someone else will be fully responsible for your loan if you happen to default. Since they'll assume less risk, the dealer will be more willing to provide you with the financing you need to purchase two cars.

Go to a "buy here, pay here" dealership:

Most dealerships aren't direct lenders, meaning they act as middlemen between car buyers and auto loan providers. A "

buy here, pay here

" dealership is different in that they offer in-house financing and make their own loan approval decisions. Such a dealer typically has more lenient lending requirements and more flexible loan terms, so they may be able to accommodate your special financing needs. 
Get Financing for Multiple Cars at North Coast Auto Mall of Akron
Image via Flickr by Chris Yarzab
If you're shopping for used vehicles in Akron, Ohio, pay a visit to North Coast Auto Mall of Akron. As one of the leading "buy here, pay here" dealerships in the area, we have a wide array of auto financing solutions to suit the budgets and lifestyles of all kinds of car buyers. Whether you want to finance multiple vehicles, obtain a loan with bad credit, refinance an existing loan, or consolidate your debts, we've got you covered. We also have connections with banks, credit unions, and other lenders in the Akron area, so you'll have plenty of options. 
If you need more information about the auto financing services available at North Coast Auto Mall of Akron, don't hesitate to speak with our knowledgeable and helpful finance experts. Contact us via phone, email, or our contact form.