Can You Finance A Car With No Credit?
Buying a vehicle with no credit isn't impossible. With the right dealership, you can finance a car with no credit. If you live in Akron, and you've been turned away because of your low credit score or lack of credit all together, you still have options at North Coast Auto Mall. Our dealership has helped many drivers in Ohio, Pennsylvania and beyond secure no-credit loans from our wide network of financing lenders, and we can do the same for you. Discuss your personalized financing options, history, and purchase goals with our staff and we'll be happy to work with you to find you the right vehicle and loan agreement.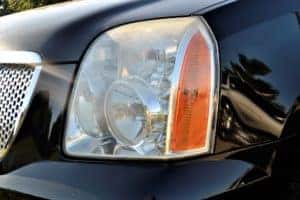 "Pre-Owned Gmc Truck Headlamp Head" licensed under Pixabay by ArtisticOperations
Why Is It Difficult to Get an Auto Loan With No Credit?
Your credit score is one of the main factors influencing a lender's decision on your auto loan application. It's a reflection of your ability to meet your loan obligations and eventually repay the amount you owe. Having no credit means you haven't owned a credit card or taken out a loan in the past. While it doesn't necessarily indicate that you'll have trouble paying back your car loan, it's risky for a lender to offer financing to you because they're unable to assess your credit risk. 
With little or no credit history, you'll most likely face rejection if you apply for auto financing with a major bank, which typically has stringent credit requirements. You should have a better chance of securing a car loan if you go to a credit union or finance through a car dealership. In-house financing allows you to access loan options without the traditional barriers presented at a bank or other lending institution. North Coast Auto Mall of Akron offers in-house financing and buy here pay here loan options, allowing our customers to get approved for car loans regardless of their credit history.
How to Get an Auto Loan With No Credit
If a lender is willing to consider your application for a no-credit car loan, they'll require you to provide additional documents to prove that you have the financial means to pay back what you owe. The following are some things you can do to increase your chances of getting approved for a car loan with no credit:
Show Proof of Income
Your credit history isn't the only thing a lender looks at when deciding whether or not to give you a car loan. If you can provide proof of steady employment and income, you'll likely be able to convince your lender that you're capable of handling the financial responsibilities that come with the loan. So be prepared to show them as many pay stubs as you can. The longer you're employed and the higher your income, the better your loan approval chances. 
Make a Larger Down Payment
If you make a larger down payment on the vehicle you intend to buy, you'll reduce the amount of money you need to borrow. Since your lender won't have to take such a big risk in offering you a car loan, they'll be more willing to consider your application.
Enlist a Co-Signer
A co-signer is a person who agrees to take full responsibility for your auto loan if you fail to make your monthly payments. They can help you increase your chances of securing a car loan and even qualify for a lower interest rate, depending on their credit score.
Does a Car Loan Affect Your Credit Score?
As someone with no credit, securing an auto loan is your first step to building a credit history. Your car loan can have a positive or negative impact on your future credit rating, depending on how well you manage your loan obligations. If you faithfully make your monthly car payments on time, you can expect your credit score to go up fairly quickly. However, if you have late or missed payments, your score will likely be less than favorable.
Find Loan Approval at North Coast Auto Mall of Akron
If you're trying to get a no-credit car loan in Akron, North Coast Auto Mall is the place to go. Over the years, we have established solid relationships with a wide array of auto loan providers, including national and local banks, credit unions, and alternative lenders. We can help you obtain the loan approval you need to buy your next car. 
Our finance department has extensive experience working with no-credit vehicle buyers. Therefore, we're able to help you gather all the documents needed to maximize your loan approval chances and secure a low interest rate. Our friendly and helpful finance experts will work closely with you every step of the way to ensure you'll get the best auto loan deal. If you need more information or advice on no-credit auto financing, don't hesitate to contact us.