Best Used Cars for the Snow
Are you on the hunt for an affordable ride that can weather any storm the Ohio winter throws at it? Our used car dealership in Akron has you covered with our incredible selection of used cars, SUVs, and trucks for sale with enhanced traction, power, and cold-weather comforts you'll love. Take a look at our list below to find your next used car to help you through all the snow, sleet, and road salt this coming Ohio winter.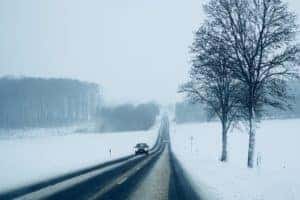 "Bad Weather Snow-Covered Road Snow" licensed Pixabay by Cunigunde
Used Acura TL 
Touting both style and winter-oriented features, the Acura TL sedan has the strength and traction needed to conquer any snowy road. The available Super Handling All-Wheel Drive system can automatically adjust handling and transfer power right where you need it most in slippery conditions.
Used Subaru Impreza 
If safety is a must-have on your used car shopping list, then look no further than the Subaru Impreza on our lot in Akron! Subaru's reputation for safety is renowned, and this sporty sedan truly dazzles in the snow with its driver-controllable differential and confidence-inspiring all-wheel-drive system.
Used Jeep Compass
From long-lasting trucks to dependable SUVs, the Jeep Compass secures a spot on our list of the best-used cars for the snow. This comfortable, family-friendly vehicle has a powerful engine and high ground clearance which is strong and tall enough to carve through any snowdrifts you may encounter quickly.
Used Honda Civic 
Honda is synonymous with safety, and the Honda Civic has the power and high-tech systems needed to get you to your destination safely. The Civic sedan can also help you traverse long winter night drivers with its four-wheel automatic braking system, brake assist, and auto-leveling headlights.
Explore Our Selection of Winter-Ready Used Cars in Akron, Ohio 
Suppose you're ready to schedule a test drive of one of the capable used car models above, then feel free to reach out to the team of experts at North Coast Auto Mall today! We would be more than happy to walk you through our inventory and answer any questions you may have.