Best Things to do in Akron
Akron is a city of nearly 200,000 people divided by the Ohio and Erie Canal that runs through the center. Akron's rich history goes back to its founding in the early 19th century, and it has been at the center of several industries including rubber and tire manufacturing. If you live in or are visiting Akron and wondering what to do in your free time, never fear — from museums, galleries, parks, and more, this city has a lot going on.
We've asked our local staff and their families for their recommendations on the "Best Things To Do in Akron" and compiled this list. If there's an activity or an event we missed here, please reach out and let us know your favorite things to do in Akron and we'll be happy to update our list to connect our customers and readers to the best things that Akron has to offer.
AKRON ZOO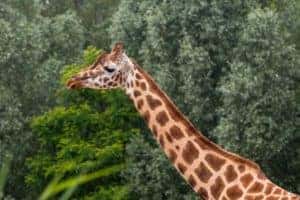 "Zoo Giraffe Animal" licensed under Pixabay by herbert2512
The Akron Zoo is a great place to spend a day looking at and learning about wildlife. The zoo's summer season runs from April until the end of October and it is open from 10 a.m. to 5 p.m. daily except for special events. It's located at 505 Euclid Ave. near Perkins Park. The general admission price is $13 for adults, $10 for children ages 2-14, $11 for seniors 62 and over, and free for infants under 2 as well as Akron Zoo members. Advanced tickets can be purchased online and will let you skip the ticket line.
The Akron Zoo is dedicated to educating people about the importance of conservation and building a love for animals and the natural world. On your trip to the Akron Zoo, you can see many kinds of animals in high-quality habitats, including lemurs, Andean condors, jaguars, Chilean flamingos, and everyone's favorite fuzzy cats, snow leopards. Penguin Point is home to a flock of endangered Humboldt penguins. If you come around lunchtime, check out the four-star green-certified restaurant, Komodo Kingdom Cafe, for an assortment of food options including burgers and pizza.
AKRON ART MUSEUM
Conveniently located in Downtown Akron at 1 South High Street, the Akron Art Museum is a must-visit if you're in the area. General admission is $6, with discounts for seniors, students, and EBT cardholders. Children under 18 get in for free, making this a great affordable activity for families where they can enjoy an array of quality art. The museum is closed on Monday and Tuesday and open on Wednesday, Friday, Saturday, and Sunday from 11 a.m. to 5 p.m. and on Thursday from 11 a.m. until 8 p.m. Stop by the museum gift shop for a souvenir or thoughtful present.
The Akron Art Museum is dedicated to exhibiting and collecting art produced from 1850 up until the present day. The first thing you'll notice is the unique architecture of the building. Part of the museum is housed in the historic Akron post office that was built in 1899, while the rest is in the adjoining John S. and James L. Building that was added in 2007 and tripled the museum's space. It has multiple displays and exhibitions going at a time, from contemporary modern art to the museum's historic collections, so there is sure to be something everyone will enjoy.
STAN HYWET HALL AND GARDENS
The Stan Hywet Hall is an impressive Tudor Revival Manor House that features 65 rooms, a Gothic Revival conservatory, about 70 acres of formal grounds and gardens, and more. It was once the estate home of F. A. Seiberling, co-founder of the Goodyear Tire and Rubber Company, and now it is available to rent for special occasions, hosts educational events, and is open to the public from Tuesday to Sunday from 10 a.m. until 4:30 p.m. for self-guided tours. Ticket prices are $15 for adult non-members, $6 for youths ages 6 to 17, and free for Stan Hywet members.
The Stan Hywet Hall is located at 714 N. Portage Path in the north of Akron. The Hall was completed in 1915 as the family home of the Seiberlings, who named it Stan Hywet which means "stone quarry" in Old English, a nod to the location's prominent natural feature. You can set your own pace during your self-guided tour of the hall and grounds, lingering in whichever settings are most appealing to you, whether you prefer the grand rooms, the views across the open lawns, or want to explore the gardens and enjoy the well-tended plants.
F. A. SEIBERLING NATURE REALM
Just a five-minute drive from Stan Hywet Hall is the F. A. Seiberling Nature Realm. This park is located at 1828 Smith Road and is open daily from 6 a.m. until 11 p.m. F. A. Seiberling donated over 400 acres to the Metro Park system, and more of his land was later purchased by the park and became the F. A. Seiberling Nature Realm. Pets are not allowed in the Nature Realm due to its special-use designation as a place for studying and the enjoyment of wildlife and nature. You can even feed chickadees by hand.
The Nature Realm Visitor Center is open Wednesday to Saturday from 10 a.m. to 5 p.m. and on Sunday from 12 p.m. to 5 p.m. Here, you'll find seasonal exhibits, kids' areas, an on-duty naturalist to answer any nature and wildlife questions, and you might even get to see live native animals. Once you're done exploring the Visitor Center, head out to the grounds where you can cross a suspension bridge that goes over a 45-foot-deep ravine. After you wander through several gardens, you can take the hiking trails that lead to observation decks, two ponds, and a prairie.
EXPERIENCE THE BEST AKRON HAS TO OFFER WITH NORTH COAST AUTO
Akron has plenty of fun things you can do to have a great day downtown or throughout the metro area. Between the zoo, art museum, historic places, and peaceful parks, you'll be able to learn something new and enjoy a day out with friends, family, or just take some well-earned time for yourself. Which of these places are you most excited to visit? Or have you already been to any of the places on this list? What did you like about it? At North Coast Auto Mall, we'd love to hear your suggestions, and your recommendations on the best things to do in Akron. Contact our team today and tell us what you think is the best place to visit in Akron.