Best Restaurants in Akron
Akron is the home of many unique restaurants serving seriously delicious eats. Whether you prefer a hearty sandwich, Midwest-style pizza, or an elegant steak dinner, there is something for everyone to enjoy in Akron. We asked our local staff and their families for recommendations on the best places to eat in Akron. Check out these six beloved Akron restaurants the next time you are headed out for a bite to eat. If we didn't include your favorite, please let us know and we'll be happy to add to our list of recommendations. 
Cilantro Thai
Cilantro Thai is a popular Akron restaurant that creates richly seasoned Central Thai dishes with creamy coconut and fragrant Thai basil. Stir-fried seafood served in a hot clay pot is one of their signature dishes. Other popular choices include duck curry, pineapple fried rice, and Pad Khee Mao, a stir-fry made from rice noodles, Thai basil, egg, and peppers. 
Cilantro Thai also offers sushi and sashimi, including salmon tempura,  volcano roll, and the signature Akron roll made from smoked salmon, eel, caviar, cream cheese, avocado, and asparagus. If you are visiting with sushi-loving friends, share an order of Cilantro Thai's Thaitanic. The Thaitanic is a huge sushi boat filled with twenty-four sushi rolls and twenty-four sashimi rolls. Be sure to save room for dessert. Cilantro Thai offers fried cheesecake and sweet sticky rice paired with fresh mango and coconut cream.
Visit Cilantro Thai on South Main Street. Lunch hours are weekdays from 11 a.m. to 2:30 p.m. Dinner hours are Monday through Thursday from 5 p.m. to 9:30 p.m., Friday from 5 p.m. to 10 p.m., and Saturday from 4:30 p.m. to 10 p.m. Reservations are encouraged.
Mr. Zub's Deli at the Matinee
Mr. Zub's is a short-order deli known for their themed sandwiches named for movie characters. The expansive menu includes sandwiches such as the Rocky Balboa (Philly steak, onions, peppers, and provolone), the Tommy Boy (meatball sub), and the Uncle Rico (roast beef, tater tots, and seasoned cream cheese on a bagel). Those with a hearty appetite should check out the Aunt Margie sandwich. Aunt Margie is a giant corned beef sandwich with Swiss cheese, butter, and a fried egg. In addition to their eclectic sandwiches, Mr. Zub's also serves pizzas, chicken wings, salads, and soups. Mr. Zub's Deli also has an impressive variety of draft and bottled beers.
Mr. Zub's Deli is on West Market Street, attached to the Matinee bar. Mr. Zub's is open Sunday through Thursday from 11 a.m. to midnight, Friday and Saturday from 11 a.m. to 1 a.m.
Diamond Grille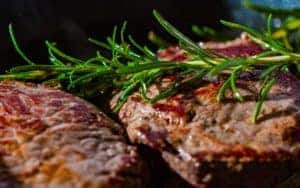 "Steak Flesh Schnitzel" licensed under Pixabay by Divily
The Diamond Grille has been in business since 1935 and is known for its old-school charm, impeccable service, and delicious steaks. Classic steakhouse appetizers such as shrimp cocktail and oysters Rockefeller are always on the menu. The Diamond Grille serves only U.S. Prime beef in cuts such as filet mignon, Boston strip, and long bone rib eye. The award-winning porterhouse for two is available on Tuesdays only. 
The Diamond Grille also serves some of the best seafood in Akron. Choose from lobster, shrimp, scallops, and a variety of freshly caught fish. Other menu items included roasted chicken and several pork dishes, including the double-thick pork chops served with spiced applesauce.
Visit the Diamond Grille on West Market Street. The Diamond Grille is open Monday through Thursday from 11 a.m. to 10 p.m., Friday from 11 a.m. to 11 p.m., and Saturday from 5 p.m. to 11 p.m. Reservations are required. Diamond Grille does not accept credit cards.
Luigi's Restaurant
Luigi's Restaurant has been making award-winning Midwest-style pizza since 1949. Luigi's pizza has a soft, thick crust, mounds of Italian cheeses, and your choice of toppings. The extensive menu also includes a variety of old-world Italian dishes. Luigi's fans rave about the baked lasagna, Italian sausage, cheese ravioli, and delectable homemade meatballs. The menu also features homemade garlic bread, hot and cold sandwiches, a variety of pasta dishes, hearty pasta Fagioli, steak, and fried fish. 
Luigi's Restaurant is on North Main Street. They are open Monday through Thursday from 11 a.m. to 2 p.m., Friday from 11 a.m. to 4 a.m., Saturday from 5 a.m. to 4 a.m., and Sunday from 4 a.m. to 2 a.m. Lunch is served every weekday until 3 p.m. Luigi's does not accept credit cards.
The Lockview
The Lockview has been serving up gourmet grilled cheese at its downtown Akron location since 2008. The Lockview menu offers 16 grilled cheese options made with cheeses such as smoked gouda, Havarti dill, mozzarella, and goat cheese. Bread options include three-cheese Miche, marble rye, Tuscan herb, and thick Texas toast. The Lockview makes several soups to go along with your grilled cheese, including the traditional tomato. 
In addition to grilled cheese, The Lockview also serves a variety of appetizers and salads. Fish tacos, steak, and the half-pound Lockview burger are also available. The Lockview has a long import and craft beer list as well as seasonal cocktails and wines. 
If you visit, be sure to check out the one-of-a-kind rooftop beer garden. The Lockview is on South Main Street. Current hours are Tuesday through Saturday from 5 p.m. to 12 p.m.
Swenson's Drive-In
Swenson's Drive-In has developed a devoted fan base in the years since its opening in 1934. This Akron-based chain is known for its inexpensive menu items and friendly attendants that deliver your order straight to your car. Swenson's has an extensive burger menu, but the most popular is the Galley Boy. The Galley Boy is two freshly ground beef patties, cheese, and two Swenson sauces served on a toasted bun with a green olive garnish. Be sure to try Swenson's potato puffs, onion rings, or French fries as well.
Swenson's Drive-In offers milkshakes in more than 18 flavors, including root beer, pineapple, coffee, and caramel. Other desserts include sundaes, brownies, and a Xango made from fried cheesecake in a pastry tortilla.
Swenson's Drive-In has grown from its original Akron location to a beloved Ohio chain with restaurants in Akron, Canton, Columbus, and Cleveland. Hours vary depending on location.
Experience The Best Akron Has To Offer With Our Local Staff
North Coast Auto Mall loves our local Ohio restaurants and we hope you will, too. Our list of the "Best of Northeast Ohio" when it comes to restaurants in Akron was made by our staff's personal recommendations and favorites. We can guarantee that if you visit any of these six Akron favorites; we know you won't be disappointed. If you have any favorites that we missed, reach out to us online and let us know. We will be sure to add it to our list of recommendations for the best restaurants in Akron.