Best Ice Cream in Akron, OH
At North Coast Auto Mall, we know there's nothing like a cold treat after test-driving a new car. Luckily, Akron is full of one-of-a-kind, delicious ice cream spots, and we've collected our list of the best icy treats, all within driving distance of our Akron dealership.
Chill Artisan Ice Cream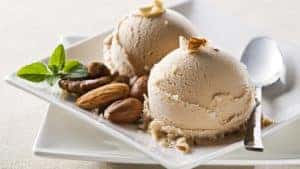 "nutty-ice-cream" licensed under CC BY-SA 2.0 via Flickr by Michael Stern
A local chain with three Ohio spots, Chill Artisan Ice Cream serves up scoops of unique ice cream flavors. The Akron location is on Main Street, in the heart of downtown. At Chill Artisan Ice Cream, you can get shakes, sundaes, floats, or scoops in handmade waffle cones. The shop's Akron location has seven signature flavors, including Lavender Honey and Salty Caramel. You can also choose from a rotating menu of temporary flavors, including vegan options. Chill Artisan Ice Cream also sells their signature and rotating flavors in pints and quarts.
The Treatery
Located in Northside Marketplace, the Treatery is a seasonal ice cream and dessert shop that's open from spring until fall every year. The Treatery sells rolled ice cream in a variety of flavors, from traditional choices like vanilla to unique tastes, like rose and black sesame. While the shop is most famous for its rolled ice cream served in waffle shells or bowls, you can also get soft-serve. They also offer an ice-cream stuffed donut, using freshly baked donuts from local bakery North Hill Donuts.
Café Arnone
Café Arnone, located a short drive from Akron in Fairlawn, is a bistro serving espresso drinks, pastries and homemade gelato. Choose from traditional Italian gelato flavors, like vanilla and stracciatella, or try the seasonal flavors, which vary and have included a blood-orange sorbet and a peanut-butter cookie-dough gelato. You can also get an affogato, a shot of espresso poured over a scoop of gelato or a Cold Brew Float, a drink made with cold-brew coffee and your choice of gelato flavor.
Pav's Creamery
Although Pav's Creamery is in Cuyahoga Falls, it's worth the short drive to visit this unique ice cream shop. Pav's Creamery serves both homemade custard and ice cream, along with baked goods. Choose a traditional flavor, like chocolate or vanilla, or try one of Pav's distinctive signature flavors, like Blueberry Cheesecake, Double Dark Raspberry, or Nutella Smores. You can also get adult milkshakes at the shop, featuring ice cream and spirits. Hungry visitors might try one of Pav's signature creations, like the Baklava Sundae or the Sprinkle City Ice Cream Sandwich.
Welch's Dairy Cream
Welch's Dairy Cream is a seasonal ice cream stand in Norton, just outside Akron. It's open from spring to fall every year. The small shop, which is a neighborhood landmark, offers homemade traditional flavors, like chocolate and vanilla, along with a rotating menu of weekly flavors. The weekly flavors often relate to the time of year or holidays and include pumpkin, pistachio, and raspberry. In addition to ice cream, Welch's Dairy Cream serves hot dogs and several other sandwiches. Although the stand is fairly small, there's lots of outdoor seating.
La Fresa Ice Cream Mexican Restaurant
Located on Darrow Road, La Fresa Ice Cream Mexican Restaurant serves traditional Mexican dishes and treats, along with a variety of ice cream options. If you're looking for a lunch spot, you can enjoy burritos, tamales, and tacos before dessert. You can also just come by for the ice cream and other desserts, like sweet tamales and pina loca. La Fresa is known for its variety of popsicles in flavors like pineapple, guava, pistachio, and hibiscus. You can also get a scoop of ice cream in varying flavors, a banana split, or a waffle with ice cream.
Therapy Ice Cream and Coffee Bar
Located on Canton Road, a short drive from downtown Akron, Therapy Ice Cream and Coffee Bar serves ice cream, pastries, and espresso drinks. The restaurant's homemade ice cream flavors range from traditional tastes, like vanilla, chocolate, and strawberry, to unique combinations like Pumpkin Roll, a spicy pumpkin base with a cream cheese swirl. Their flavors change often, so you might find a new favorite ice cream every time you visit. You can also get banana splits, signature milkshakes, and affogatos.
Trecaso's Mary Coyle Fine Italian Cuisine & Ice Cream
Trecaso's Restaurant serves Mary Coyle's Ice Cream Creations, a line of ice cream flavors and signature frozen desserts. You can prepare for your icy treat with a slice of Trecaso's famous pizza, or you can just go there for desserts. The ice cream options are extensive, with unique flavors like Italian Spumoni and Burgundy Cherry. You can order a scoop or choose a signature sundae, called a Showboat. Popular choices include Blueberry Hill, which includes vanilla ice cream with blueberry and marshmallow sauces.
Stoddard's Frozen Custard
Located in Kent,, Stoddard's Frozen Custard has been a local institution since 1948. Stoddard's Frozen Custard makes three flavors fresh every day: chocolate, vanilla, and their Flavor of the Day, which has included banana and their popular Salty Caramel in the past. Customers can get scoops of the three flavors or select one of Stoddard's many ice cream specials. Popular items include dipped cones, their Hot Fudge Brownie Sundae, and the Homemade Big Wheel, a large ice cream sandwich made from vanilla custard and chocolate cookies.
Strickland's Frozen Custard
Founded in 1936, Strickland's Frozen Custard is a seasonal, neighborhood spot for homemade frozen custard and other treats. The restaurant is open from spring to fall every year. Strickland's Frozen Custard started in Cuyahoga, and now there are several locations in the Akron area. Typically, Strickland's makes their chocolate and vanilla fresh every day, with several rotating flavors of the day, like pumpkin, lemon, and cookie dough. The restaurant's website and social media page feature calendars that list every day's rotating flavors. You can also get shakes, blended twists with candy pieces, and sundaes.
Now that you know our top favorite ice cream places, we hope you are able to try them out and discover a new sugar-filled destination for you and your family to enjoy. Did we miss your favorite ice cream shop in Akron? Let us know and we might add your pick to the list!