The Best Breweries in Akron, OH
Worldwide sales of beer totaled over 133 billion liters. In the United States, retail and on-site beer sales totaled over $116 billion in 2019. Unfortunately, not all beers are created equal. If you love beer, you've probably tried a few you wished you hadn't. But that doesn't stop you from trying new beers because that's how you find the outstanding ones.
The beer scene in the Akron area has boomed over the last decade, with many microbreweries popping up and producing world-class beers. To help you find those unique brews, we put together this Best of Akron and Beyond list of breweries to post on our blog page. Of course, we can't promise you'll like every specialty blend they produce, but we can assure you there's a flavor for every palate.
Hoppin' Frog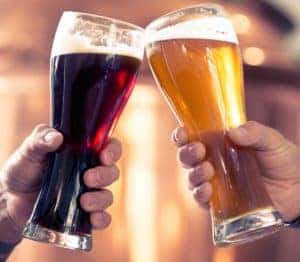 Image licensed under cocktails.lovetoknow.com
If you love beer and haven't found Hoppin' Frog yet, you need to get over to their tasting room on Waterloo Road immediately. Hoppin' Frog opens from 3:00 p.m. until 10:00 p.m. Tuesday through Thursday and from 11:00 a.m. until 11:00 p.m. Friday and Saturday. Hoppin' Frog has brewed some of the finest beers in the world since 2006. In 2021 alone, they've won a combined nine Gold, Silver, and Bronz medals at the Great American Beer Festival, Australian International Beer Awards, Greg Shephard Memorial Trophy, and Rate Beer's Best contests.
You'll find rare award-winning brews such as B.O.R.I.S. the Crusher Oatmeal Stout, Orange You Diggin' It IPA, and The Jam Raspberry Hot Pepper Porter. In addition, they consistently brew up a seasonal flavor like this year's Frog Hollow Double Pumpkin Ale and the Frosted Frog Christmas Ale.
When you get hungry, order some food from their kitchen. The fare reflects Hoppin' Frog's commitment to quality, offering delicious dishes that pair well with an ice-cold beer. You'll find delicious brats, Bavarian pretzels, house-made chip dip, and even a charcuterie board to snack on while you sip your favorite beer.
Akronym Brewing
Brewmaster Shawn Adams continues to impress with his craft beers at Akronym Brewing. He's produced over 20 award-winning brews since 2018. He's taken home the Gold Medal at the Ohio Craft Brewer's Cup and won the U.S. Grand Champion award three years running in the US Beer Tasting Championship.
Akronym Brewing has done its part in revitalizing downtown Akron from its Market Street location. Connecting with and inspiring the Akron community has always been their mission. You'll find everything from English barleywines and stouts to IPAs and wheat ales on their menu. They enjoy brewing seasonal beers like the Das Pumpkin Ale. Classic pilsner drinkers love their Czech 123 Pilsner for its crisp, refreshing flavor.
The kitchen puts out a small but delicious menu to give you something to wash down while you enjoy specialty brews like the High Street Wheat with Cherries or the New England style Henry IPA. If you love good craft beer, you can't go wrong with Akronym Brewing. In addition to their beers on tap, you can order a keg of your favorite to take home.
Two Monks Brewing Company
The two monks in question are Steve and Patrick. Together, they've been crafting some of the best beer in Akron and have taken their expertise to winemaking. You can enjoy beers from their taps like the classic American Pale Ale, a juicy Brewberry, and the sweet French Vanilla Stout. October always brings an Oktoberfest and their Punkin Ale to welcome the Fall season.
Two Monks Brewing Company's ability to produce wine has grabbed the attention of Akron residents. They currently make Riesling, Cabernet Sauvignon, Chardonnay, Pinot Grigio, and Pinot Noir. Snacks, sandwiches, and cheese plates are available from the kitchen at reasonable prices. Indoor and outdoor seating is available at their Massillon Road location. In addition, they proudly participate in the Summit Brew Path, an annual event that lets you tour the local breweries and get your passport stamped at every stop.
Thirsty Dog Brewing Company
If you're looking for award-winning flavors and a vast selection of craft beers, Thirsty Dog Brewing Company should be on your radar. Their tap list includes 12 year-round beers like Bloodhound Orange, juicy Citra Dog, and the full-bodied Old Leghumper.
Nine seasonal offerings such as the 12 Dogs of Christmas, Irish Setter Red, Barktoberfest, Pumpkin Ale, and Lemon Shandy will get you in the holiday spirit. They also produce limited-release brews. These playful creations offer beer lovers a chance to experience unique flavors with selections like Saison, Golden Ales, and more. In addition, their barrel-aged beers offer intense flavors like the Coconut Rum Porter or Siberian Night.
The food menu has plenty to choose from, with flatbreads, sandwiches, and salads made fresh and with the finest ingredients. The next time you feel like a craft beer and a bite to eat, you can visit the Thirsty Dog Brewing Company's taphouse on Grant Street.
Lock 15 Brewing Company
Nestled on the corner of North and Howard Streets in the old Swinehart Tire Factory, Lock 15 Brewing Company features a seven-barrel brewhouse visible through a glass wall. The brewhouse puts out a variety of year-round brews and seasonal creations. As true beer lovers, they even include a few guest taps from other Akron breweries.
They have an expo-style open kitchen that gives diners a clear view of the food as it's prepared. Lock 15 Brewing Company's expansive menu somehow keeps it simple, with rustic fare from local purveyors. Outside, the beer garden seats up to 100 people at communal-style tables. So if you're looking for a combination of great food and quality craft beer, Lock 15 Brewing Company delivers.
North Coast Auto Mall – Akron strives to keep our customers connected to the great city of Akron with relevant content on our blog. We hope you enjoyed reading our Best of Akron and Beyond list of breweries. Hopefully, the next time you crave a craft beer, you will find a delicious brew at one of these fine establishments. If you feel like we missed one of your favorites, please feel free to contact us. We'll do our best to keep the list updated for future readers.