Best Breakfast Spots in Akron
Enjoying a delicious breakfast is an ideal way to start your day and a hearty brunch in an awesome way to catch up with friends and family. In Akron, you can try a variety of great breakfasts, from fast food to fancy brunches. Here are some of the best breakfast restaurants in the area. This list was compiled by our local Akron staff and might miss your favorite. Let us know where your favorite place in Akron is to grab breakfast and we'll add it to our list of the best breakfast spots in Akron.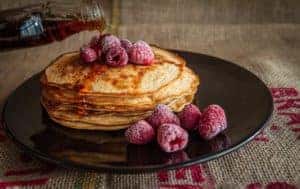 "Pancakes Maple Syrup Raspberries" licensed under Pixabay by piviso
VALLEY CAFE
The Valley Cafe is a family-owned restaurant that opened in 2008, and it uses the freshest, best ingredients available to create traditional diner food with a gourmet twist. Try the shrimp and grit cakes with Cajun garlic cream sauce and garlic toast or a blueberry, chocolate chip, or banana pancake with two eggs. The Valley Veggie Breakfast Sandwich comes with scrambled eggs, spinach, roasted portobello mushrooms, cheese, and toast, and the Breakfast Bowl has scrambled eggs, a crumbled biscuit, home fries, cheddar cheese, and spicy sausage gravy.
The Country Fried Steak has breaded, fried Angus beef, homemade gravy, two eggs, toast, and home fries or grits. You can also choose a Belgian waffle with strawberries and bananas, avocado toast with pink Himalayan sea salt and sliced tomatoes, or oatmeal with brown sugar, raisins, and milk. The Roasted Veggie Omelet includes roasted red peppers, portobello mushrooms, onions, and cheese, and the Greek Omelet has gyro meat, tomatoes, onions, feta cheese, and gyro sauce. You can visit Tuesday through Friday from 8 a.m. to 2 p.m. or on weekends from 8 a.m. to 3 p.m.
THE HONEYMOON GRILLE
The Honeymoon Grille is another family-owned restaurant, and it opened in 2013. It serves breakfast and lunch all day, and everything is made fresh to order. Try Julie's Jumpstart Wrap, with egg whites, turkey sausage, spinach, tomato, cheese, and spicy mustard, or The Captain, an 8-ounce top sirloin steak with two eggs, home fries, and toast. With German Fries, you'll get two eggs, green peppers, onions, and cheese on top of home fries with toast.
Available pancake and waffle toppings include bacon, blueberries, chocolate chips, pecans, walnuts, and fresh fruit. Choose the Belgian Waffle Sundae for a waffle with vanilla ice cream, chocolate sauce, whipped cream, and a cherry. The Chili Omelet comes with homemade chili, cheddar cheese, jalapenos, and sour cream, and the Mediterranean Omelet has black olives, banana peppers, feta cheese, spinach, and tomato. You can also order an English muffin, a gravy biscuit, a croissant, grits with butter and toast, or old-fashioned oatmeal with milk and toast.
The Honeymoon sandwich is great for breakfast or lunch, and it has home fries, bacon, a fried egg, and cheese. For dessert, you can have a slice of carrot or chocolate cake. Gluten-free bread is available, and you can enjoy iced coffee, hot or iced tea, juice, hot chocolate, pink lemonade, an old-fashioned milkshake, or a cappuccino. You can visit the Honeymoon Grille on weekdays from 6:30 a.m. to 2 p.m., on Saturdays from 6:30 a.m. to 3 p.m., and on Sundays from 7 a.m. to 3 p.m.
MICHAEL'S A.M.
Michael's A.M. has been open in Akron for more than 35 years. All the food is made from scratch, and the restaurant uses local ingredients when possible. The Crab Cake Benedict comes with crab cakes topped with poached eggs, spinach, and Hollandaise sauce, and the Lobster Benedict has an English muffin with lobster, spinach, poached eggs, and Hollandaise sauce. Choose the Breakfast Quesadilla for bacon, egg, avocado, cheddar cheese, peppers, onions, tomatoes, sour cream, and salsa.
You can also get stuffed French toast or crepes with blueberries and cream, bananas and cream, bananas and Nutella, strawberries and cream, peaches and cream, or apples and cinnamon. Oatmeal with pecans, brown sugar, cinnamon, raisins, cranberries, blueberries, strawberries, peaches, or bananas is available as well. You can add several flavors to your coffee, including French vanilla, Irish cream, peppermint, hazelnut, raspberry, and pumpkin spice. Michael's A.M. is open every day from 7:30 a.m. to 1:30 p.m.
FRED'S DINER
Fred's Diner is popular for its delicious breakfast specials. They're numbered for easy ordering. The #1 comes with two eggs, sausage, ham or bacon, and toast with jelly, and the #2 comes with the same as #1 but also adds home fries. You can also choose three pancakes or French toast with sausage and ham or bacon, the three-egg omelet comes with cheese, home fries, and toast with jelly, and you can add mushrooms, tomatoes, bacon, onions, ham, peppers, or sausage.
The breakfast sandwich comes with two eggs and ham, bacon, or sausage. You can get it on toast, a croissant, a bun, or a bagel. Side items include a waffle, corned beef hash, oatmeal, cereal, an English muffin, a bagel with cream cheese, or toast with sourdough, whole wheat, raisin, rye, or 12-grain bread. Fred's is open from 6 a.m. to 3 p.m. If you order a numbered special before 9 a.m. when dining in, you'll get a free coffee, tea, or soft drink.
THE WATERLOO RESTAURANT
This family business has been open since 1957, and they have free Wi-Fi and a scenic patio. Try the South Akron Skillet for seasoned home fries, hot or mild sausage, eggs, and cheddar cheese. With the Garden Skillet, you'll get roasted red peppers, grilled onions, sauteed mushrooms, spinach, eggs, and havarti cheese. You can also order buttermilk pancakes, Belgian waffles, or French toast with pecans, strawberries, blueberries, or chocolate chips. On weekends, you can enjoy classic eggs Benedict with a toasted English muffin, poached eggs, Hollandaise sauce, and thinly sliced ham or beef rib roast.
You can also enjoy lemonade, soda, iced or hot tea, cappuccino, espresso, a bloody mary, or a cranberry, orange, or pineapple mimosa. A variety of milkshakes are available, and the Waterloo Restaurant has a bakery that makes its own delicious bread, biscuits, pies, cookies, and pastries. You can order breakfast all day, and this place is open Monday through Thursday from 9 a.m. to 8 p.m. It closes at 9 p.m. on Friday and 7 p.m. on Sunday. On Saturday, it's open from 8 a.m. to 9 p.m.
LET US KNOW YOUR FAVORITE BREAKFAST SPOT IN AKRON
At these places, you can enjoy a delicious breakfast or brunch with friends or family members, and it's easy to grab something before you start your day. Did we miss any of your favorite breakfast restaurants? Contact us and let us know where you like to eat most. We'll be happy to add your favorite to our list and let others know where the best spot in Akron is for breakfast.