Learn More About Bad Credit Trade-In
Trading in your old vehicle can help you meet a down payment and bypass the limitations poor credit scores may set by providing the dealer with the required down payment. We'll explore the ins and outs of trading in a car with bad credit, but to discuss your personalized financing options, please contact our finance team and we'll happily help you get the answers you need to be comfortable trading in your car.
HOW CAR TRADE-INS WORK WITH BAD CREDIT AND NEGATIVE EQUITY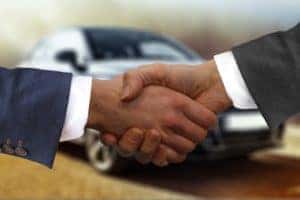 "Handshake AutoKaufmann Automobile" licensed under Pixabay by geralt
If your car is paid off and has value, then you can trade it in and it can act as the down payment you need to secure yourself a new car. If the car has what is referred to as negative equity — meaning you owe more money on it than the market value of the vehicle — it can be a little tougher to secure a loan, but it's not impossible.
The first step to leveraging a car as a trade-in is to get it evaluated so you can estimate what it's worth to a car dealer. You can take steps to increase your trade-in's value and apply the value of that trade-in to cover the minimum down payment and get yourself approved for the remainder of the loan. If the car has no equity in it, the only way to turn the vehicle into a valuable trade-in is to pay off your loan so the car can then be used as a trade-in. If you can't afford to pay off your loan immediately, you could make an extra payment per month to accelerate the process.
WHY DO I NEED A DOWN PAYMENT?
A lender may require a buyer to come up with a down payment of a certain percentage of the total of the vehicle in order to qualify for the loan. This is a standard part of the car loan approval process across the board. To get approval, you may supply a down payment in cash or provide a trade-in of value that the car dealership can sell to recoup the money. At North Coast Auto Mall of Akron, many customers have acquired a vehicle with no down payment. Due to the unique character of each customer's credit, please reach out to our finance team and we will be able to help you configure your payment and trade-in structure.
CAN YOU TRADE IN A CAR WITH A LOAN ON IT?
A negative equity trade-in refers to a vehicle that's either still being paid for or has other characteristics that negatively affect the value of the car. A negative equity vehicle cannot be used as a trade-in unless the value of the equity in the car is balanced out. This means the debt must be paid off one way or another, or you must present the dealer with the cash equivalent to cover the down-payment requirement.The negative equity must be paid off by the buyer before the down payment can be accepted and the loan approved. In some cases, we may be able to help with negative equity trade-ins. If you believe you have a negative equity trade-in, please contact our team to discuss your options.
VALUE YOUR TRADE-IN ONLINE WITH OUR CALCULATOR TOOL
Use our online trade-in value calculator to estimate the value you'll receive on your trade-in. On the easy-to-use form, in the correct fields, enter some information about your car, such as its make, model, and VIN, and you'll receive a value estimate. When you bring your car to our Akron dealership, we'll help you put the cash value of your car toward your next purchase.
CALL TO DISCUSS YOUR PERSONALIZED CREDIT HISTORY AND VEHICLE TRADE-IN
If you're looking for a car and you happen to have bad credit, you know that finding a dealership that treats you right is hard to come by. At North Coast Auto Mall of Akron, we can help you get an instant evaluation of your vehicle right on our website. This can help you determine your budget and find a new car you love. Give us a call at 330-752-8884 to talk through your options.